We (Nicola and Nikki) felt to share our experience with Air Asia with you, and our very ridiculous and amusing now but it was not quite so amusing at the time story which you will find at the end.
The Good
In the past we used to fly quite often with Air Asia as it was cheap, has useful routes and is conveniently available at our local airport. Whilst Air Asia is a budget airline many of their planes also had a reasonable amount of leg room compared to say Singapore Airlines.
Of course there are few bells and whistles as they don't include: food, drinks or entertainment but we don't need any of that. What matters to us is leg room so we can work if the seat in front goes back, reasonable prices and timetables and routes that suit us.
The Bad
On our last flight in June 2019, we discovered that Air Asia has become very strict about only allowing 7kg of carry on luggage. That is a total of 7kg for anything and everything you take with you on the plane.
On our way back from our Sri Lanka / Southern India trip, we stopped off at Kuala Lumpur for 17 hours to inspect hotels and meet our colleagues there. Our main luggage was booked all the way through.
Returning to the airport we went through all the normal checks – Kuala Lumpur airport is HUGE like a whole city, we will write another blog about that.
Anyway we made it through everything and then came across one more check shortly before our gate where we met this lady.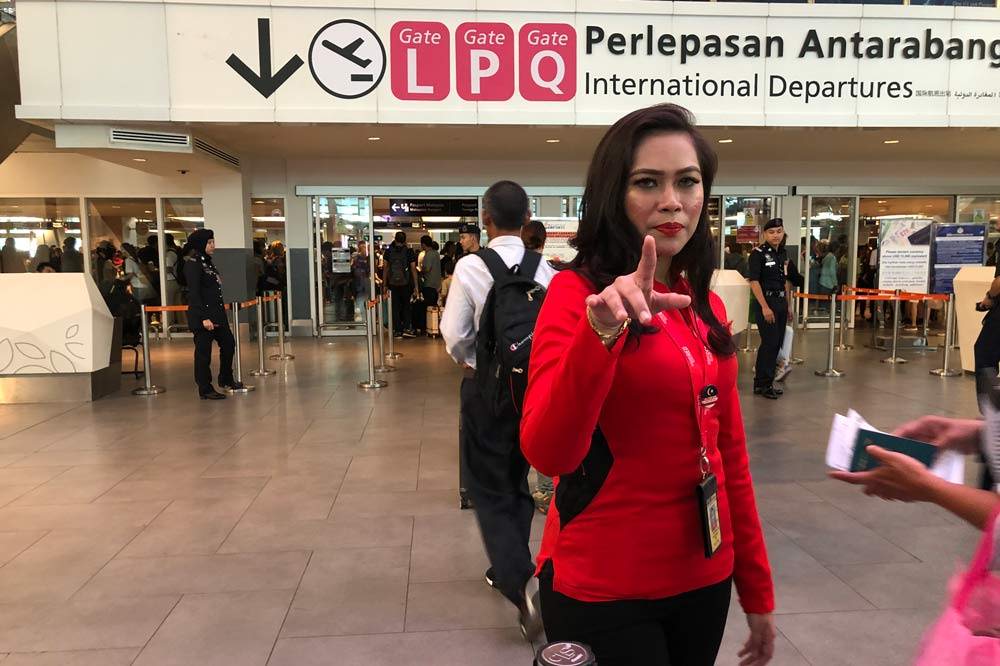 She was resolute and unreachable. We could not get past as our hand bag and hand luggage combined weighed more than 7kg.
That is a problem for us as we had our laptops, chargers, computer, camera and video gear we needed for work not to mention the spare underwear and other essentials.
It is hard for us to see how anyone could manage with only 7kg in total including the bags themselves. We looked for ways to buy more or increase our allowance but could not find any. After we got back to Australia, we tried to contact Air Asia and were not able to reach anyone – they don't provide a phone number. We sent them Facebook messages and other such communications and never got any answers. That was their second big bad. 
The Ridiculous
So here we were at Kuala Lumpur airport with our bags too heavy to get on the plane. We had also just had visited the Central Markets in Kuala Lumpur and purchased some scarves and bling.
What would you do?
The first thing we did was find a quiet spot to sit and sort ourselves out. We always make sure we have plenty of time at Kuala Lumpur airport as it is so big and we don't like to feel in a rush.
Next we ate all our food. Then it was time to get dressed in a big way.
Luckily I (Nicola) was wearing my Baubax travel jacket which has about 20 pockets and trousers with another 2 big pockets.
I put on all the clothes I had (except the spare knickers) including my new bling, neck pillow and scarves.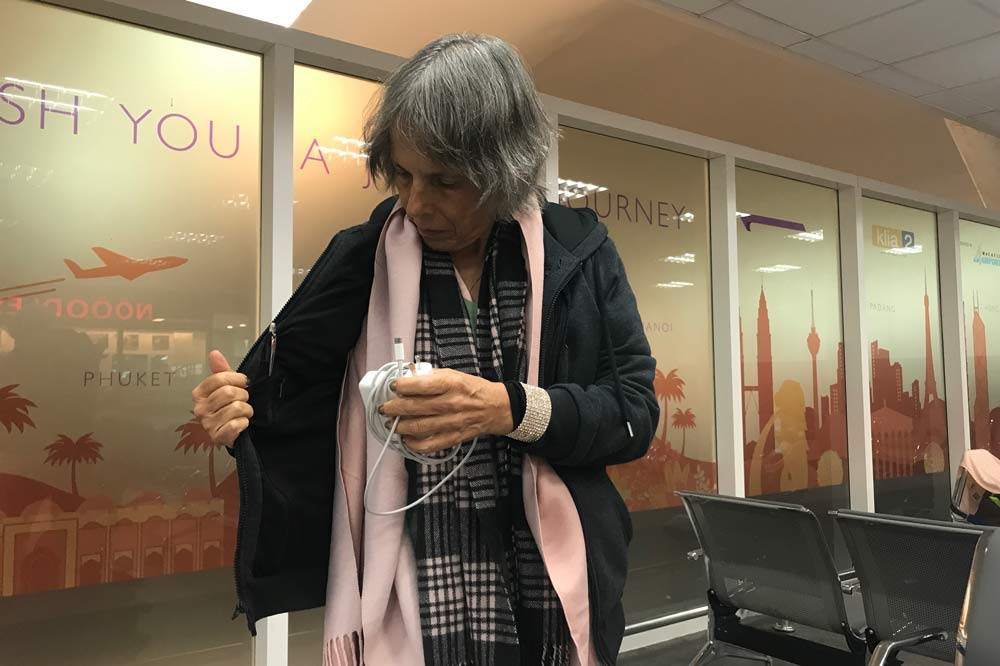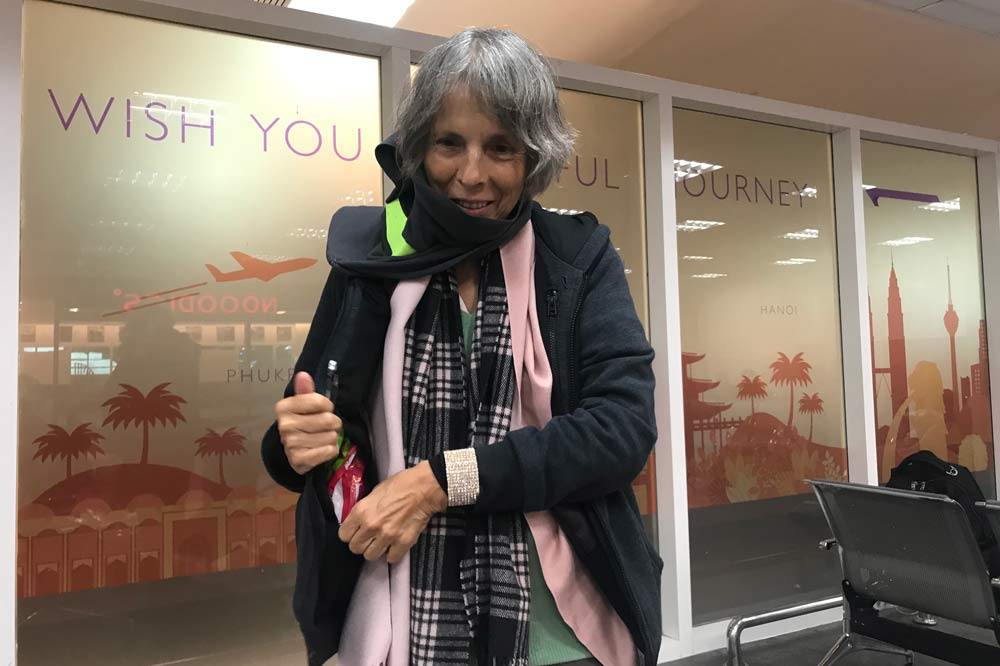 Then I stuffed all 22 pockets full of everything I could and in particular all the heaviest things.
For anyone who might think I endangered the plane, even with all this I would have still weighed a lot less than I did ten years ago as I am much slimmer than I used to be and also I am not very tall but they don't take these things into consideration.
Finally, which you can't see in these two photos I put my MacBook Pro down the front of my trousers and managed to do up the jacket.
I could hardly walk and had to hold on to my lower belly to support the computer. Nikki was also stuffed but could move a bit better. We hobbled to a different guard and I pretended to be an old lady and that Nikki was my daughter so when he asked me to lift my bags to be weighed I said "can you help dear" (I had to hold my belly computer) and she managed and we got through!
For the record Nikki is not my daughter we are friends and business partners and whilst I may have the grey hair I'm the playful one! 😂
So we lived to tell the tale but are not sure we will be able to manage with Air Asia again!