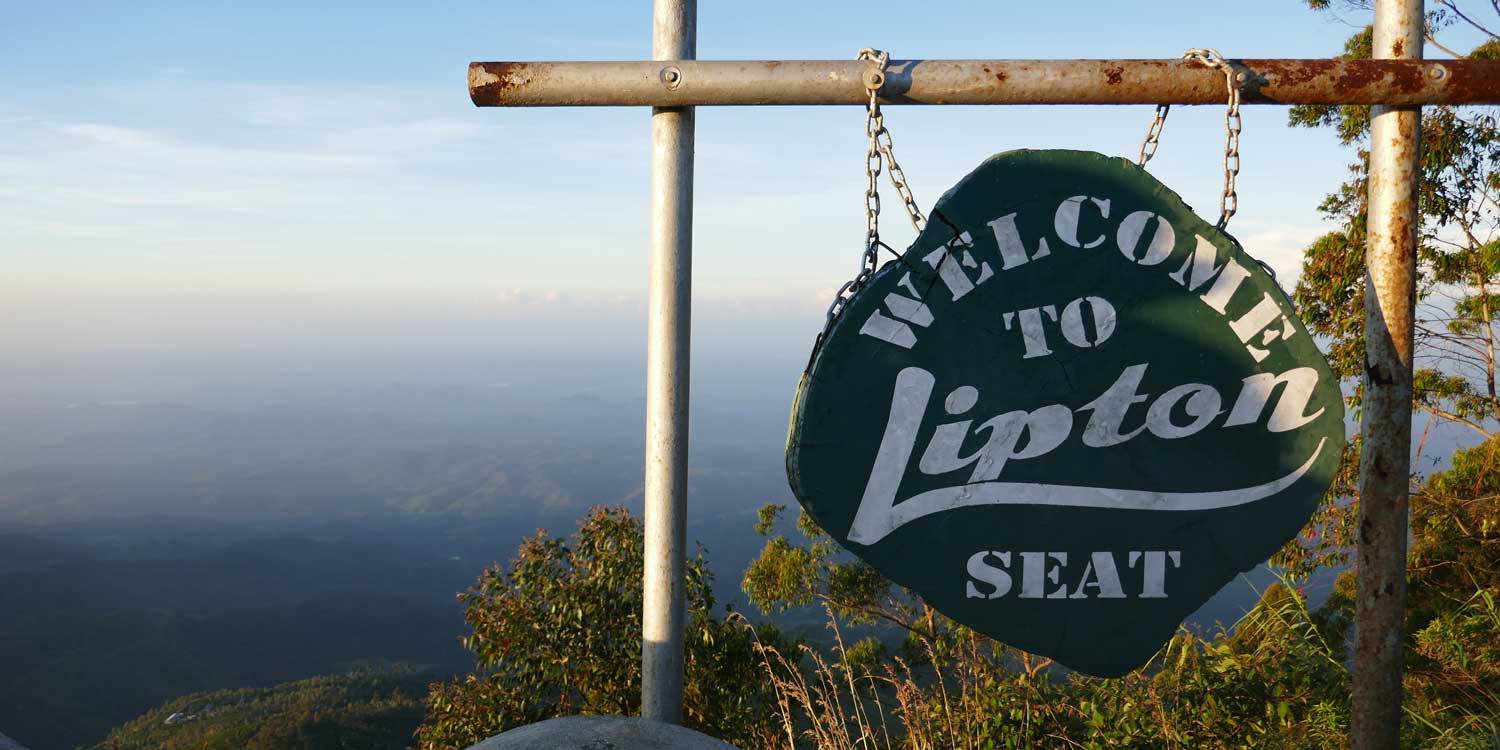 Most people have heard of Lipton Tea. In the West, it is a household name. But do you know where it comes from and did you know that where it comes from is one of the most spectacular spots in Sri Lanka?
To cut a long story short, in the late 1800's Sir Thomas Lipton, a millionaire with a chain of stores across Scotland and Britain, began his venture into growing tea in Sri Lanka (then known as Ceylon – hence Ceylon tea). As history tells us, the venture went well.
Atop a hill in one of Lipton's former tea plantations, you'll find Lipton's seat. Supposedly Sir Thomas would sit here and look out over his empire. The spot has now been honoured not only in his name, but you'll also find a statue of the man himself sitting there with a cup of tea.
And it is a great spot to have a cup of tea. The 360° views are incredible.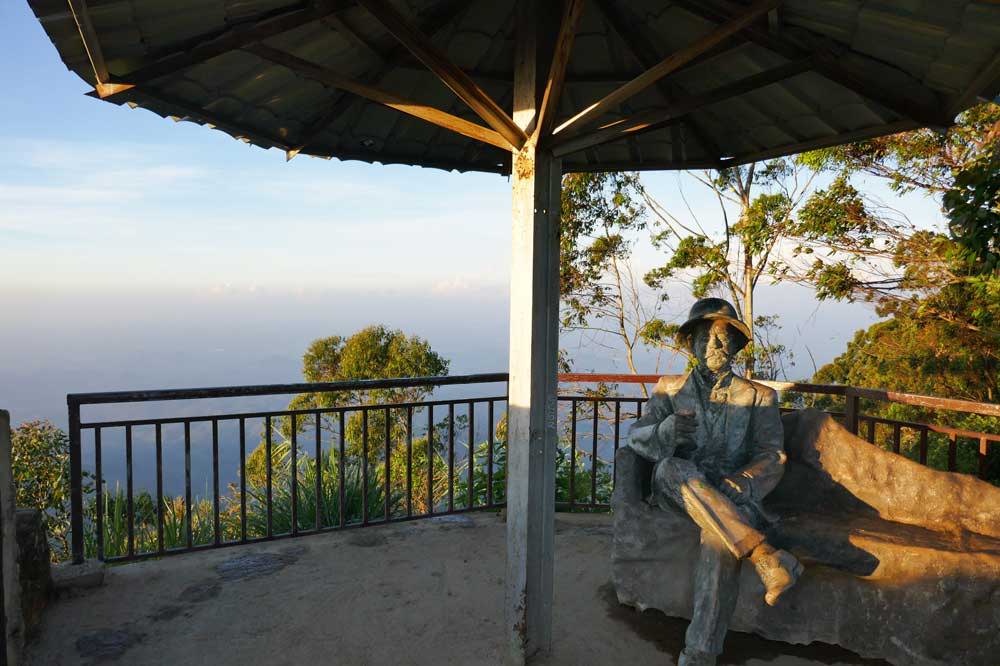 Statue of Sir Thomas Lipton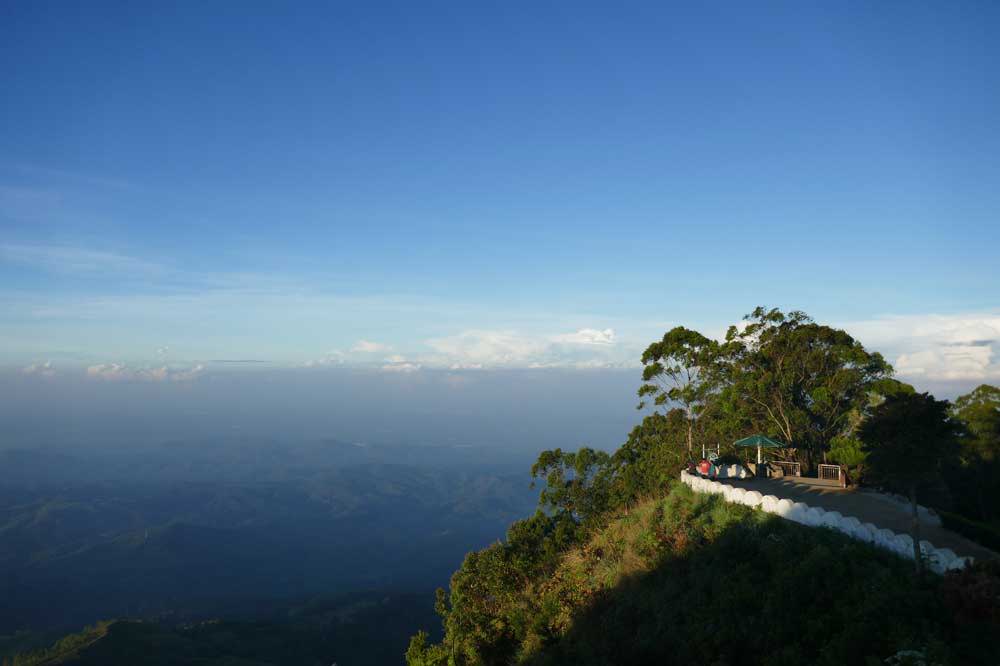 ---
How to get to Lipton's Seat?
It is best to visit Lipton's seat early in the morning to be there for sunrise. Later in the day it can be misty or cloudy which will spoil the view.
We recommend staying at Ella which is about an hour and a half from Lipton's Seat or in Haputale, which is between Ella and Lipton's Seat. Ella is a popular place to visit in Sri Lanka, known for its scenery and walks. Many people like to catch the train from Kandy to Ella. It is one of the most scenic train rides in the country winding through the misty forest, tea plantations and passing waterfalls. On the train you will find locals and tourists hanging out the windows and doors watching the scenery - we certainly don't recommend hanging out the doors and you would have to be careful with the windows too. The windows in the first class carriage don't open so for this reason some people prefer to books second class seats.
The drive from Ella to Lipton's Seat passes through Haputale. The last stretch of road up to Lipton's seat is windy and narrow so at that point it is best to leave the car and take a tuk tuk (all Travelbay Tours to Sri Lanka are private tours so you will have your own personal car and driver / guide). You can take a tuk tuk all the way to the top but we recommend walking up the last 1.5km from the entrance gate, or if not up then at least down again as it is so very, very beautiful to be there in the stillness and enjoy the magnificent views, fresh air and vast expanse of terraced tea plantations.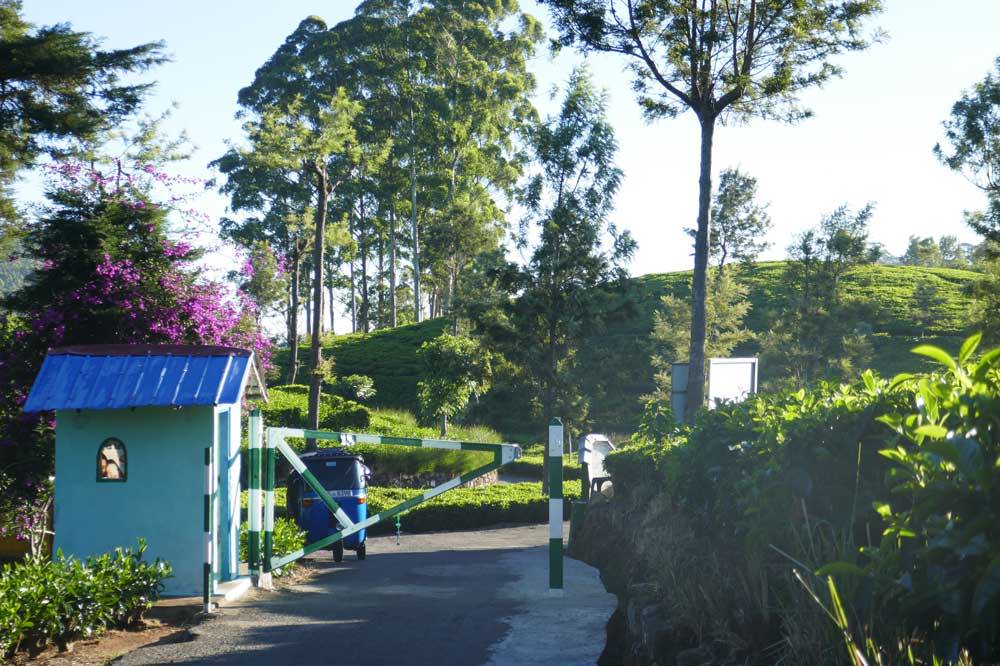 The entrance gate to Lipton's Seat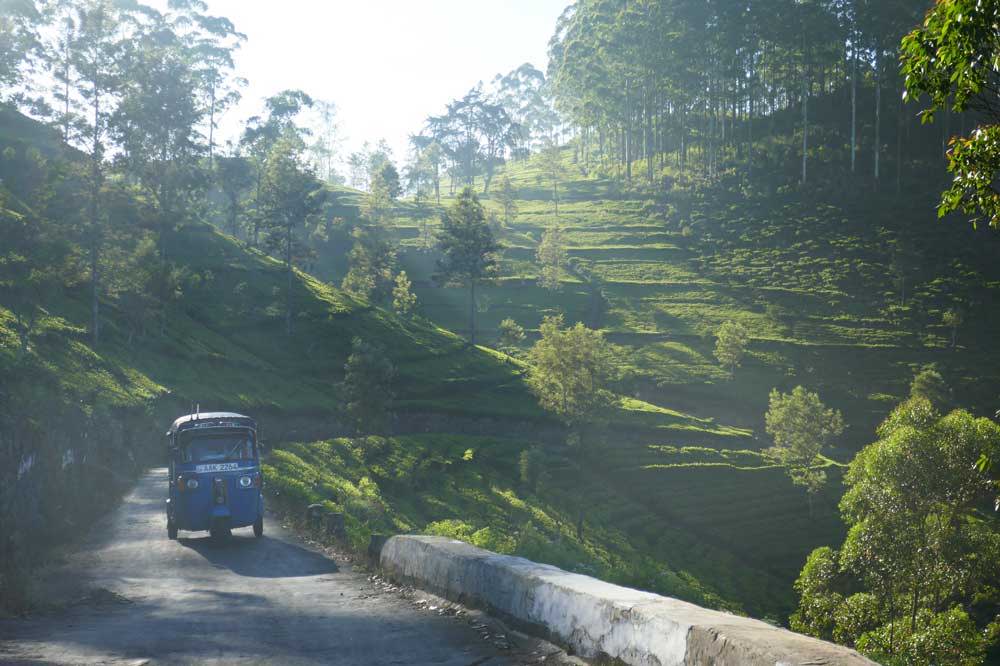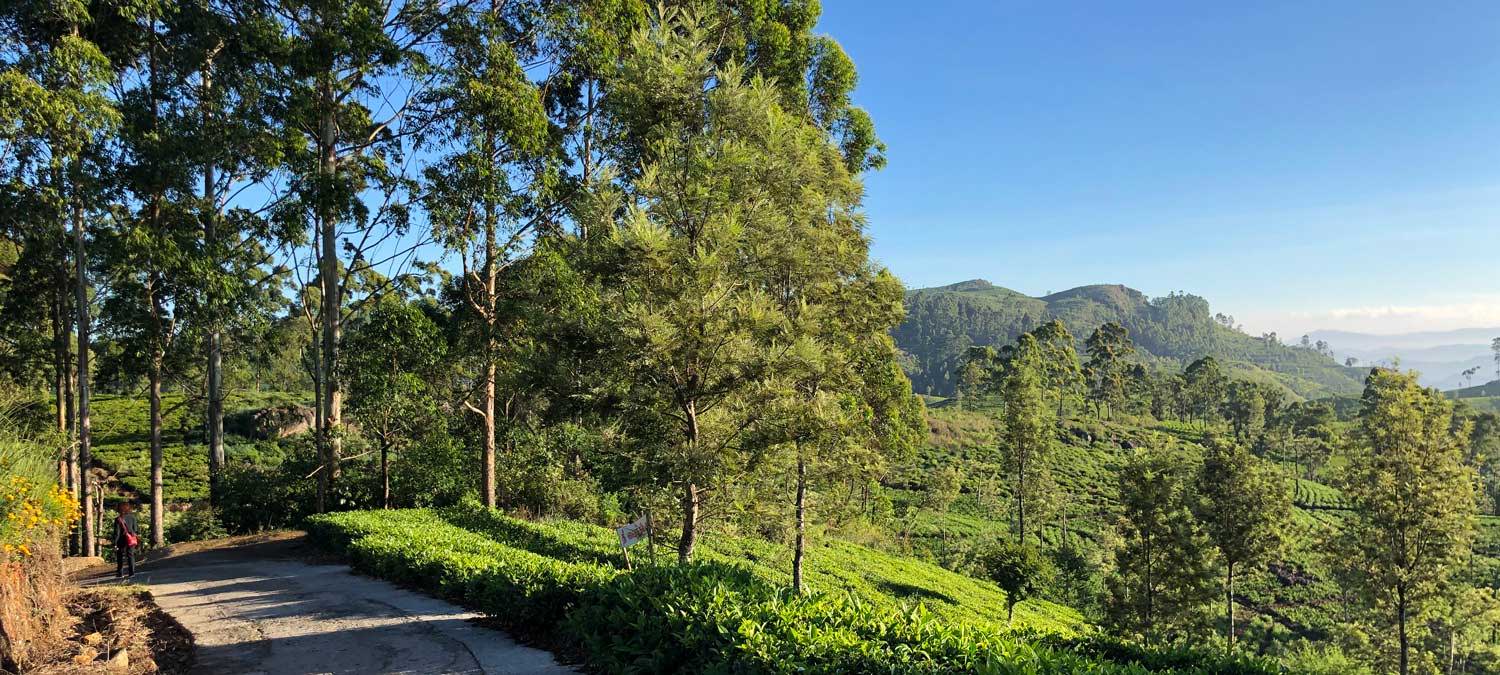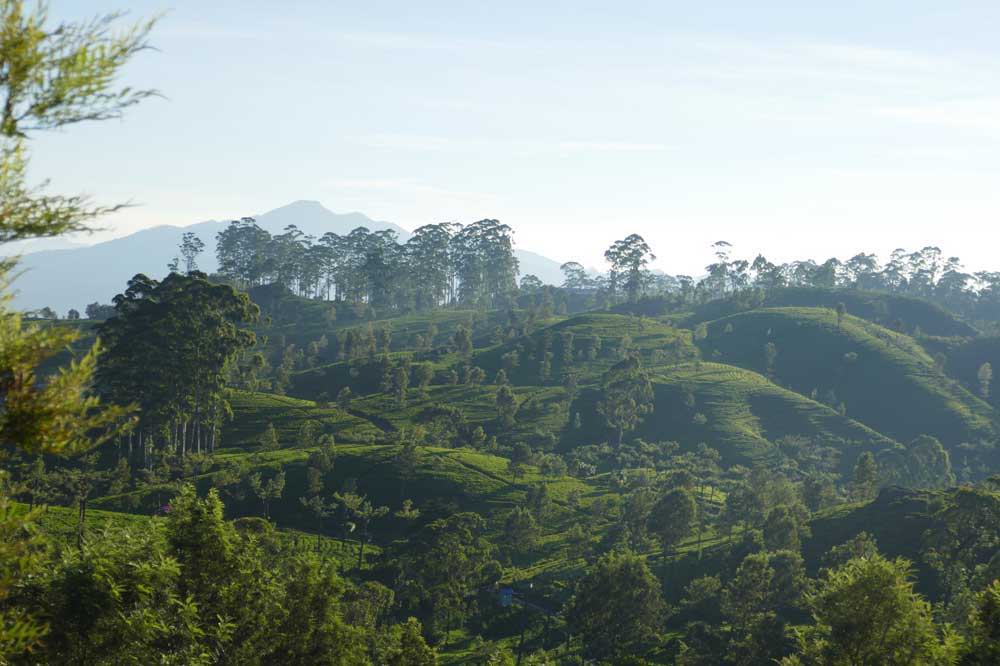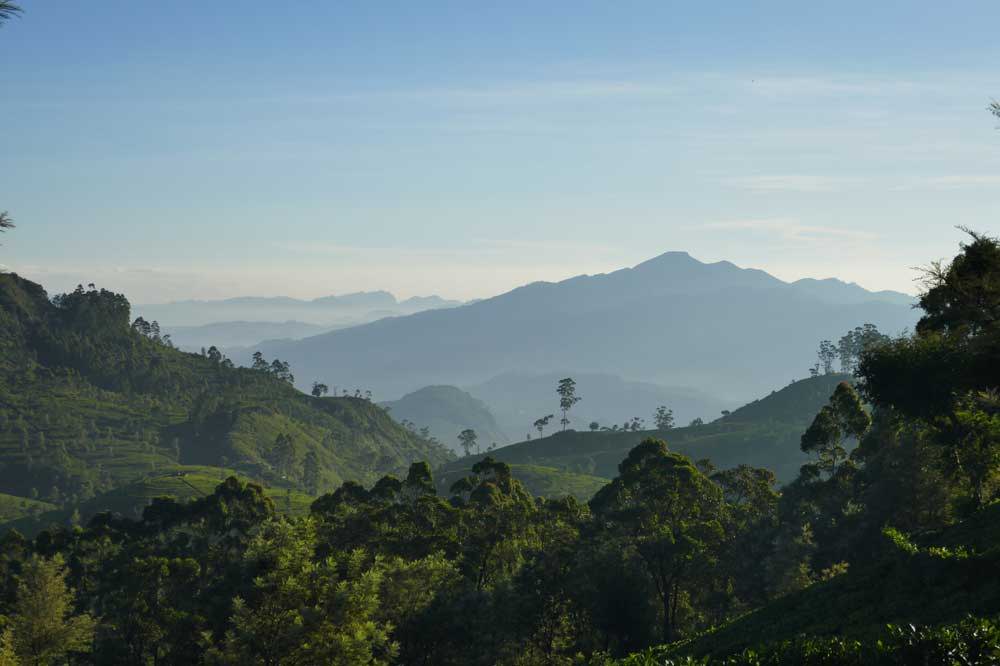 At the Lipton Lookout there are views in all directions, you arrive at a high point amongst the endless tea plantations and hills. It is simply spectacular and the photos don't even come close to doing it justice.
---
On your way back to Ella / Haputale you will pass through the village of Dambethenna. If you've been to Lipton's Seat for sunrise, it's likely you will time it with the locals in Dambethenna heading off to work and children walking to school. We found this a wonderful experience with the women in their brightly coloured clothing and sacks on their head for tea picking. The men were carrying their tools for pruning the tea plants and the children smartly dressed for school. The locals were very friendly and engaging, saying hello and many of them were happy to have their photo taken.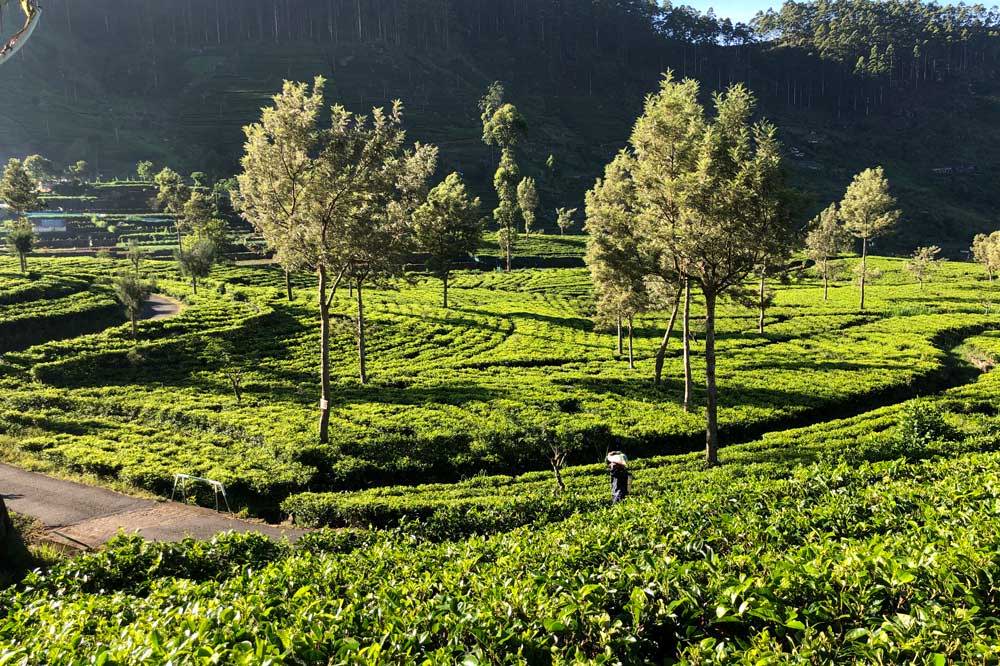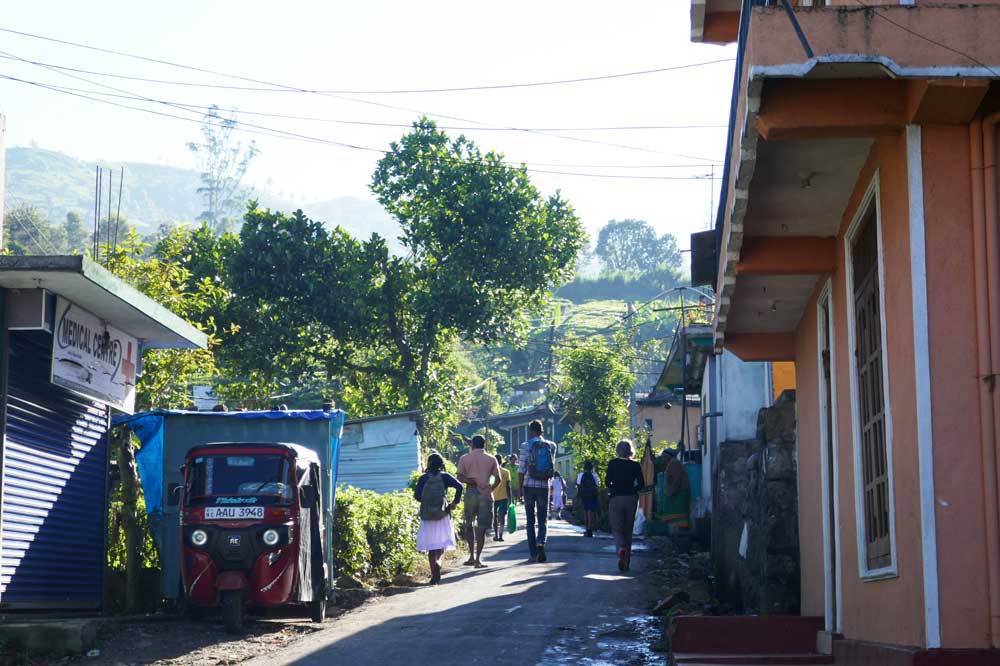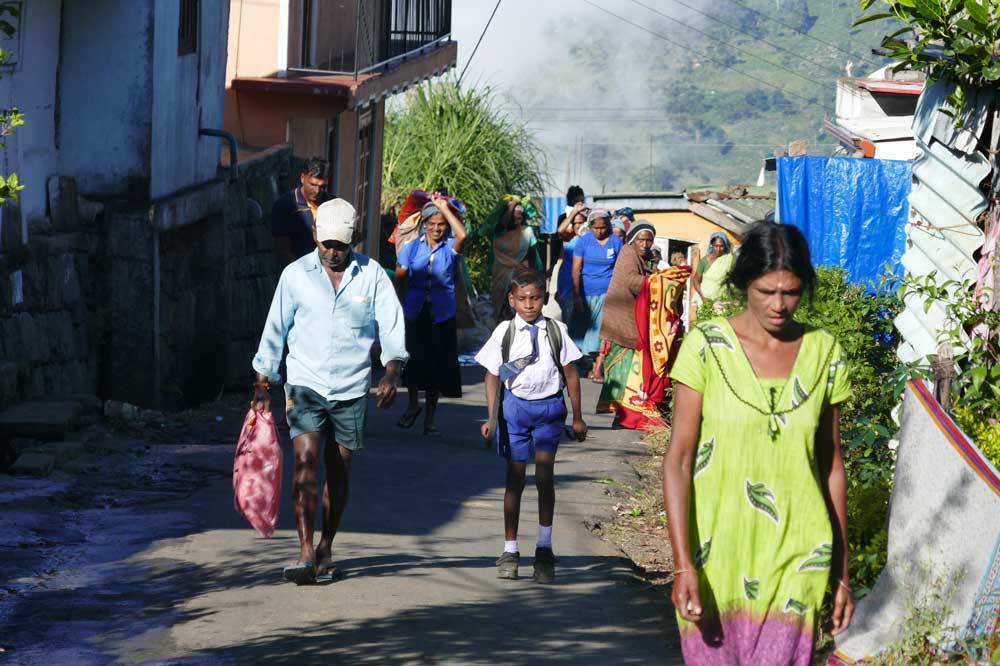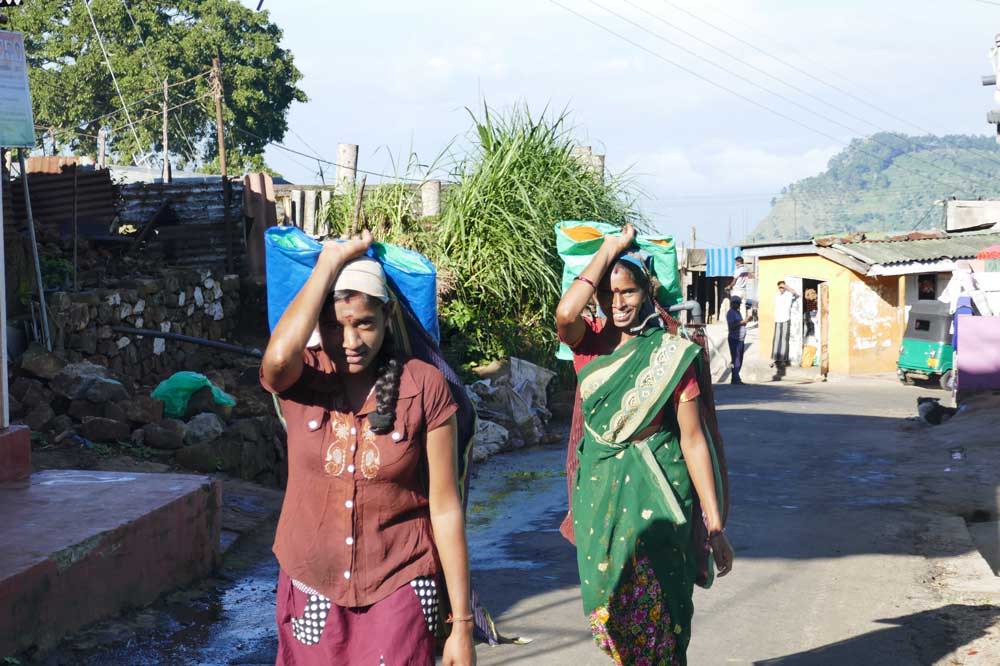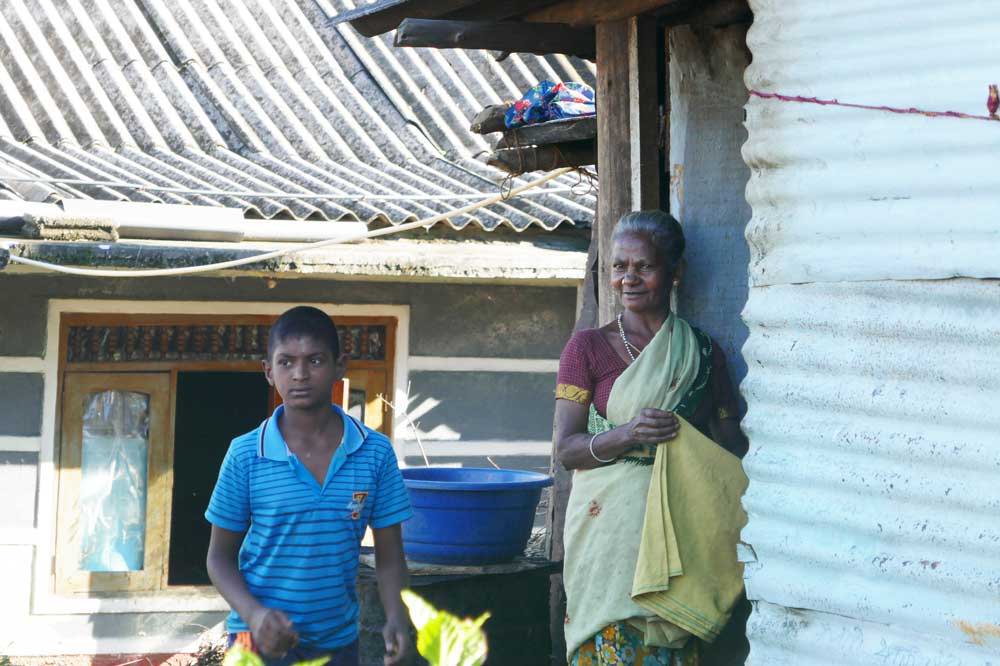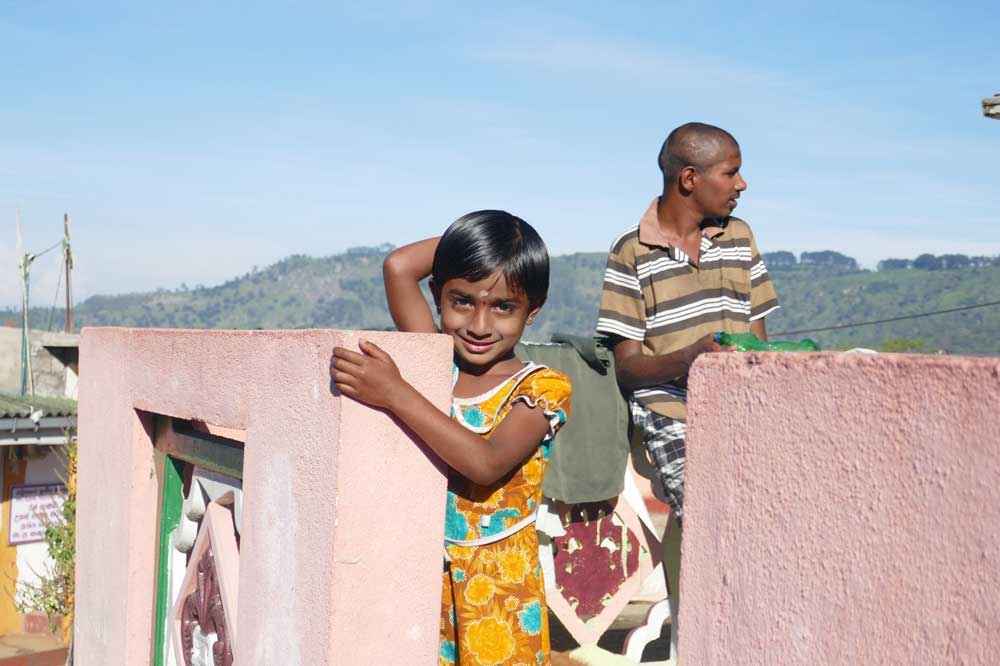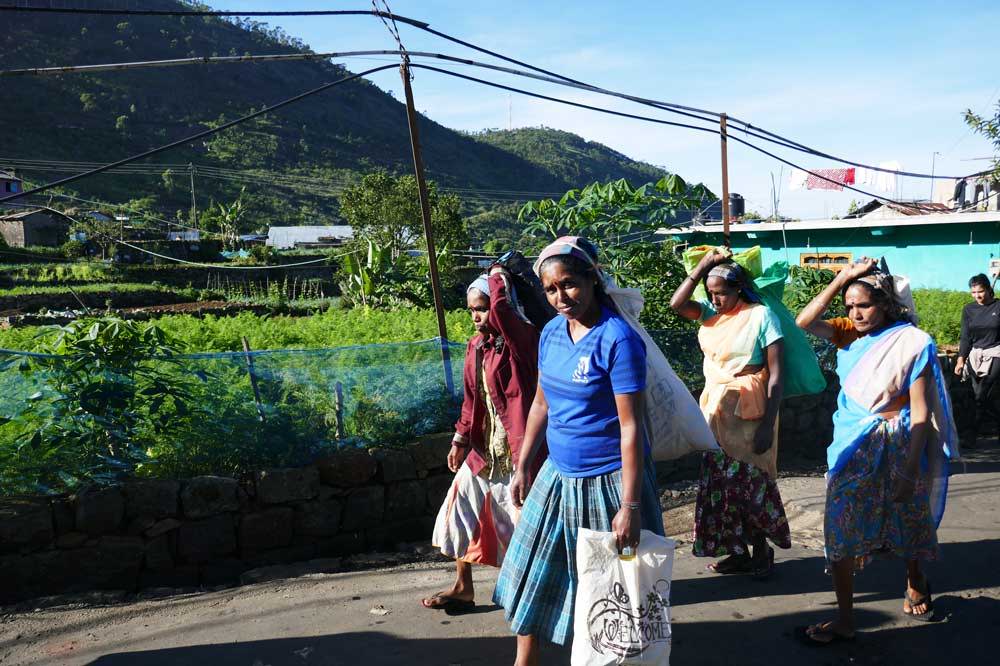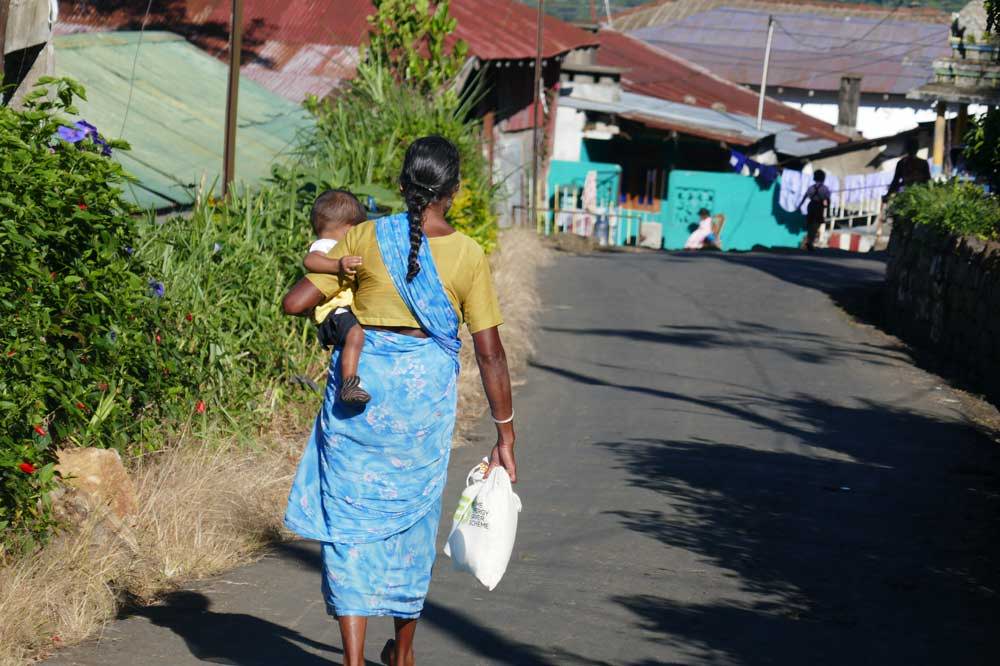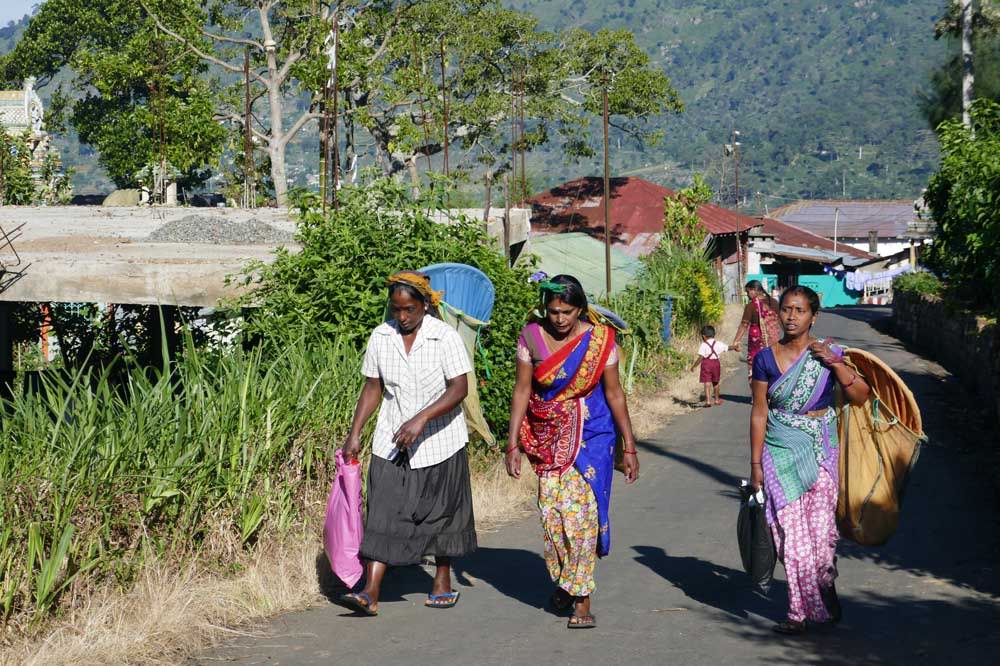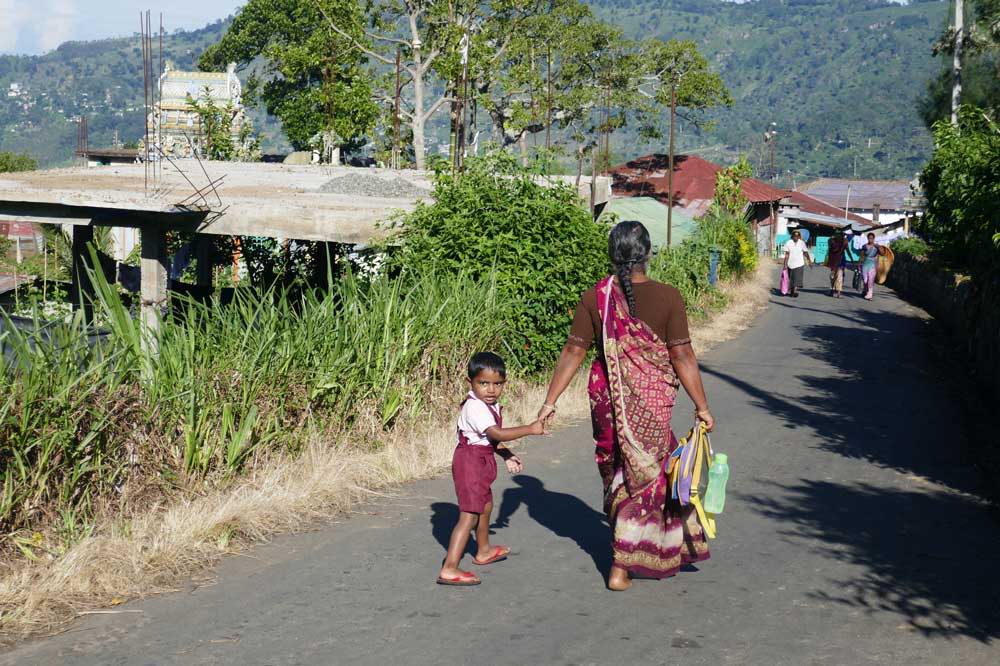 ---
The tea plantations look as though the tea plants are bushes. But they would actually be quite large trees if they were not cut - they are of the camelia variety and would grow to around 10m high. Everywhere you look there are hills and hills of the not-trees-but-bushes. In this part of Sri Lanka the tea leaves are picked by hand. It is a high quality tea that is made from this region and only the newest and freshest 5 or so leaves are picked. In India for example we saw tea fields where the women use a kind of snippers to cut the tea, taking much more than just the baby delicate leaves. The men generally take care of the pruning and fertilising and so the whole entire process is done by hand - quite astounding when you see how many tea fields there are and the terrain on which they are planted. There are tea plantations EVERYWHERE and it's almost impossible to imagine every single one of them being tended by hand. The human labour involved is incredible and tea for many is a way of life.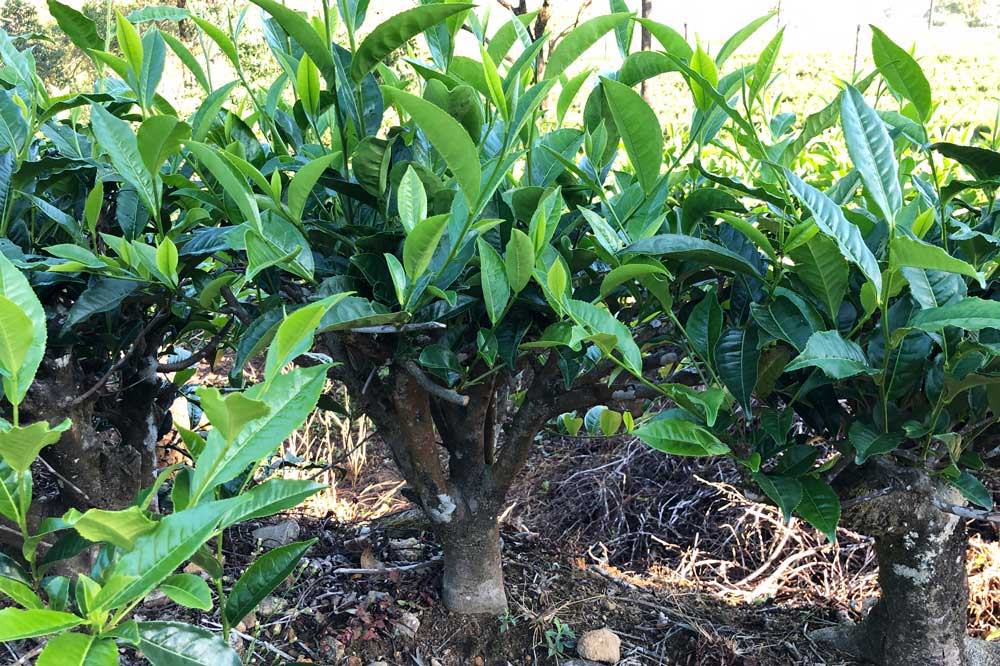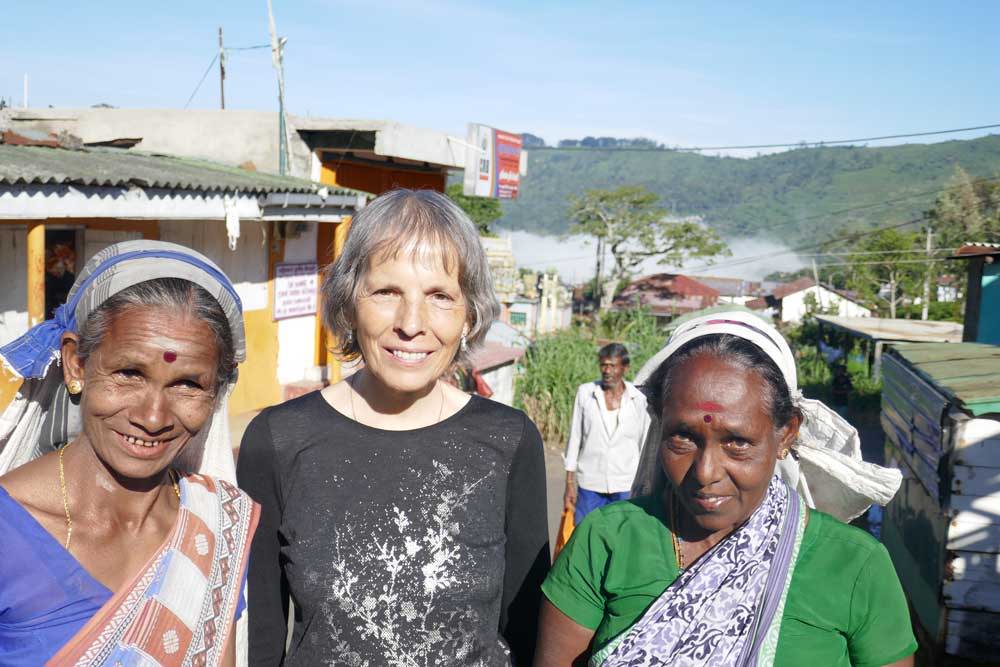 Nicola with locals in Dambethenna village
---
Travelbay Sri Lanka Private Tours
We (Nikki and Nicola) visited in May 2019 and absolutely loved it. If you too would to visit Lipton's Seat it is an easy addition to any of our Sri Lanka tours. Below are some of Travelbay's most popular Sri Lanka tours. Or to see the full collection of Sri Lanka tours, click here. All Travelbay Tours to Sri Lanka are Private Tours where you have your own personal driver/guide and private car.