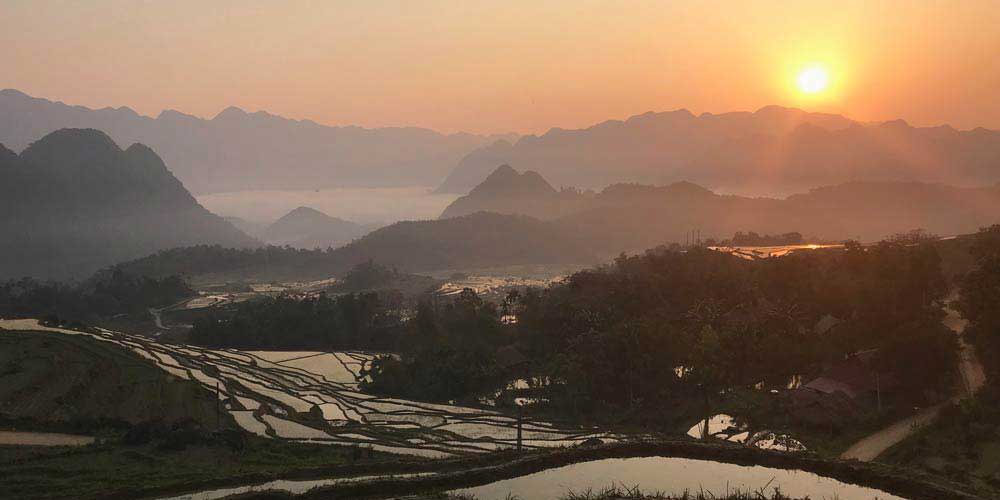 Pu Luong is in North Vietnam, about a four hour drive West of Hanoi and yes we recommend a visit!
It is one of our favourite places in Vietnam and Travelbay customers love it too. Pu Luong is a particularly enjoyable experience for those who enjoy nature, local life and are looking for something a little different and off the beaten track.
It has a laid back, local country feel to it and is a lovely contrast after spending a couple of days in the lively city of Hanoi. Although Pu Luong is often described as been slow paced, in fact the locals work hard in the rice fields all day and there is always something going on. It has a community feeling with everyone supporting each other and being welcoming and friendly.
Below are a few photos and more details about our visit to this beautiful region in March 2018:  
---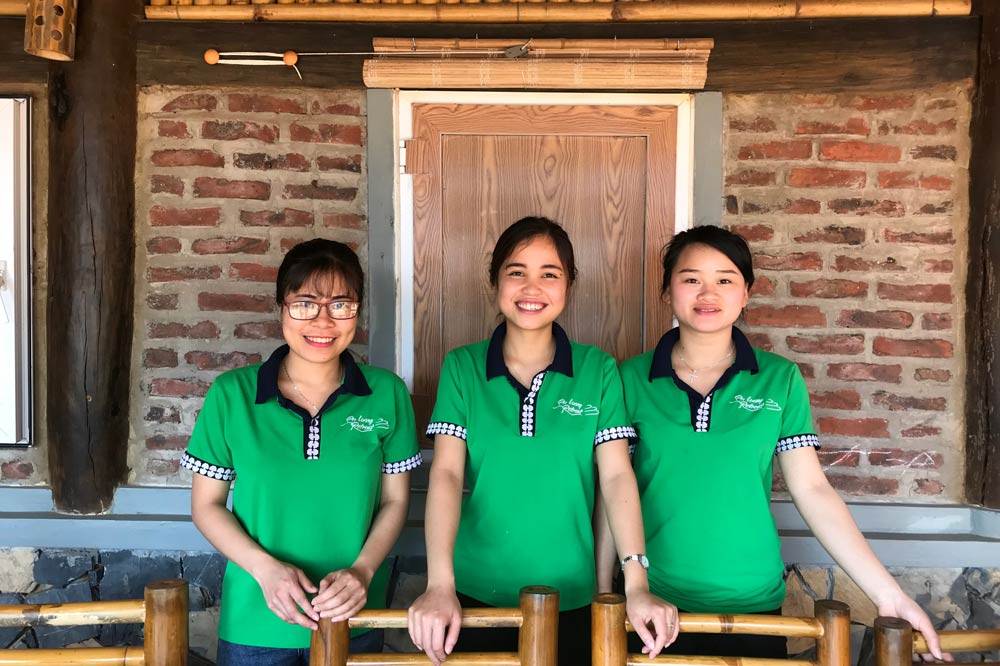 The gorgeous staff at Pu Luong Retreat
Whilst in Pu Luong we stayed at the Pu Luong Retreat which we found to be a lovely resort. The rooms are somewhat basic but very comfortable. There are a few stairs and steps around the resort, so please keep that in mind if you plan to visit.  
The view from the Bungalow was quite something, especially in the early morning. The staff were delightful and the open-air restaurant was very pleasant. We didn't use the pool, but it looked inviting with incredible views and fresh water that is piped in from a nearby stream, the water then flows on out to the rice fields below.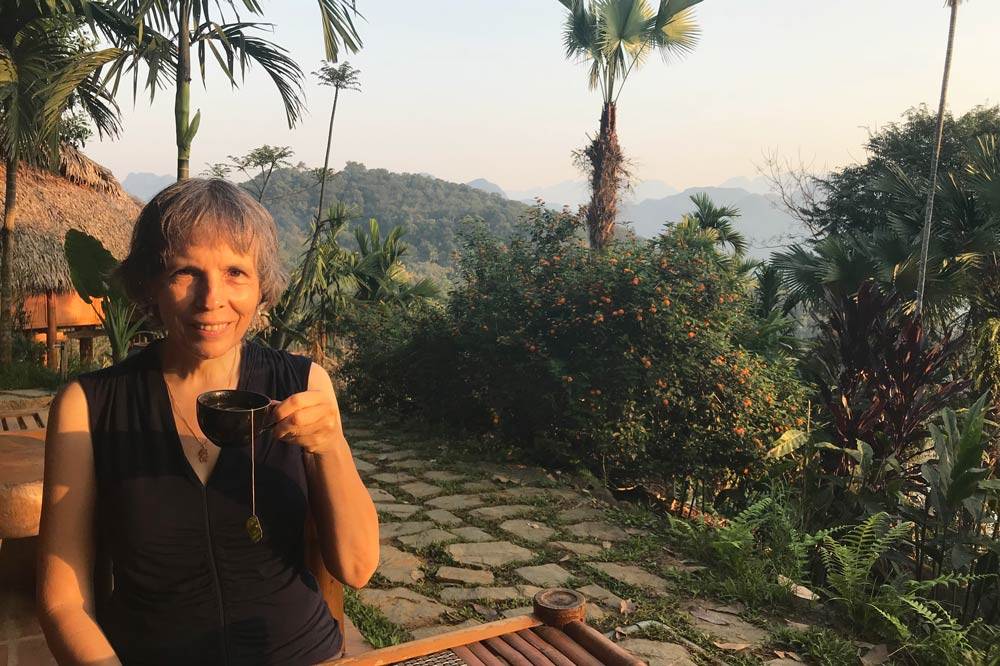 Morning cuppa with Nicola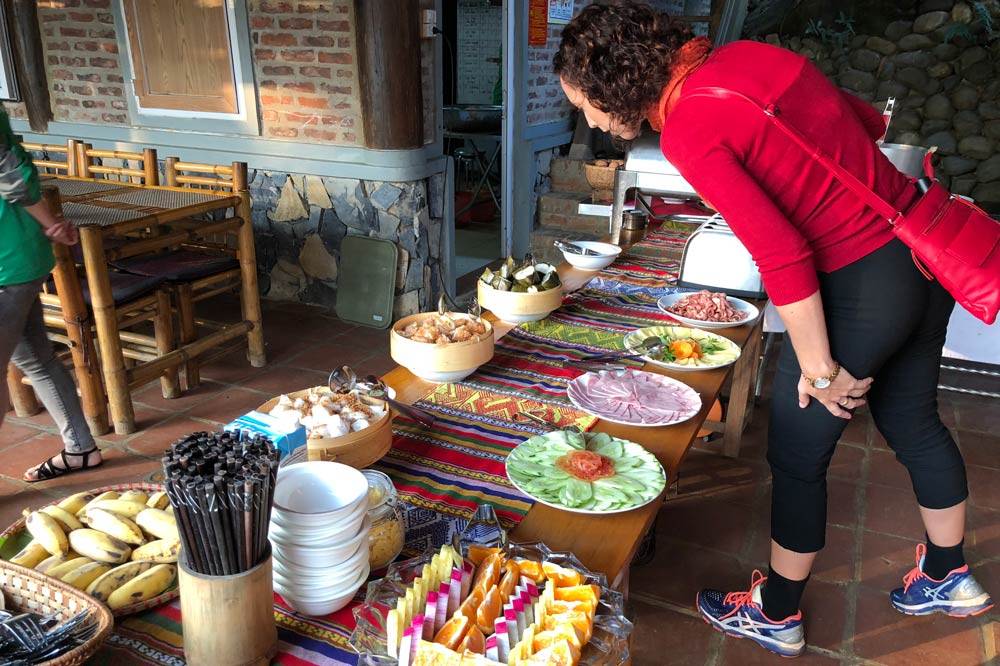 Nikki checking out the breakfast selection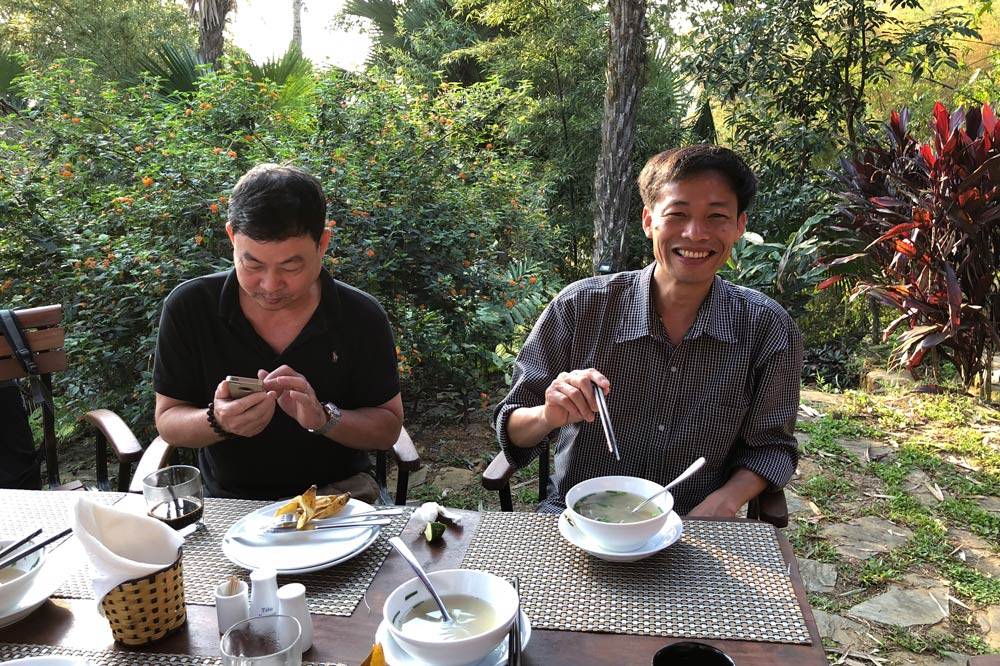 Our guide and driver enjoying their breakfast
---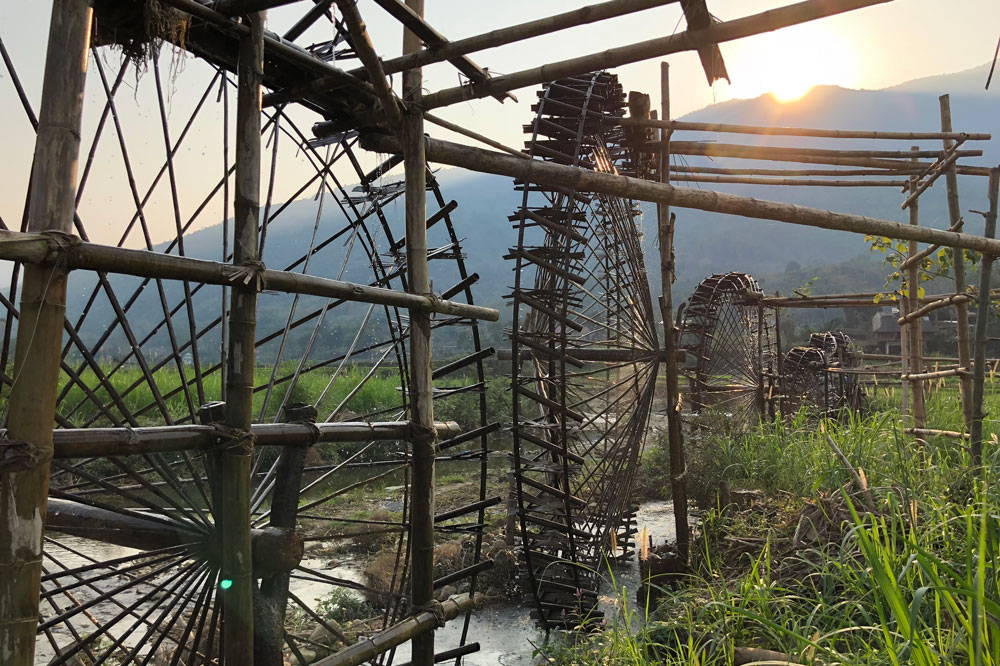 Up close - the bamboo water wheels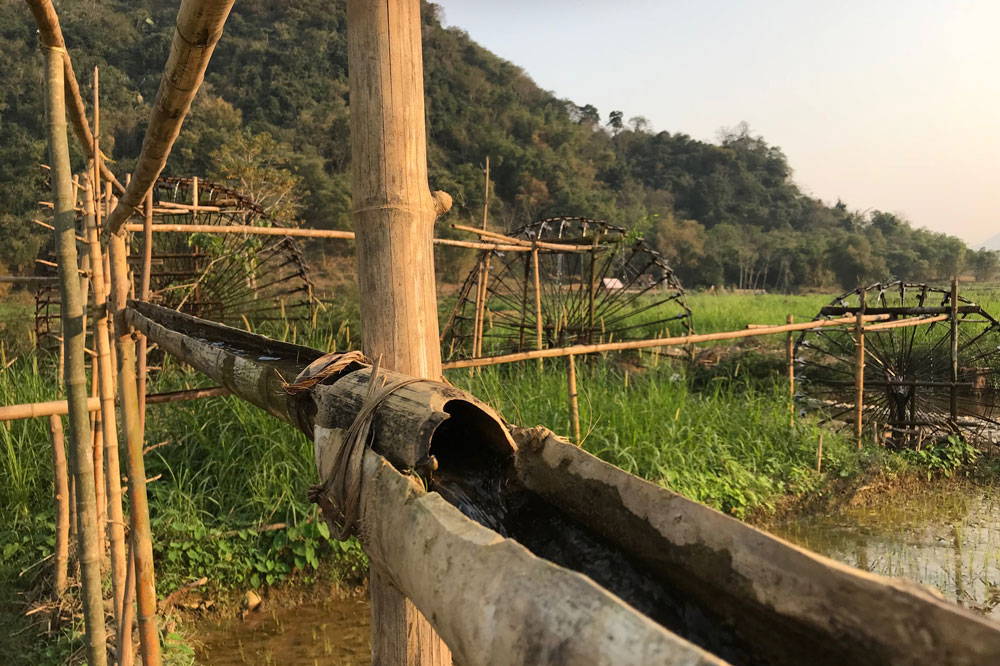 Water flowing through the pipes
We greatly enjoyed our visit to the bamboo water wheels which are a very impressive and interesting engineering and community feat. They are an irrigation system that the local community maintain for their rice fields. The whole thing is gravity fed and the irrigated area is quite large. We loved our visit here, not only discovering the Pu Luong Water Wheels and how they worked, but also the walk through the fields, the friendly locals we met, the scenery and whole experience. You can click here to watch a short video we made on the water wheels.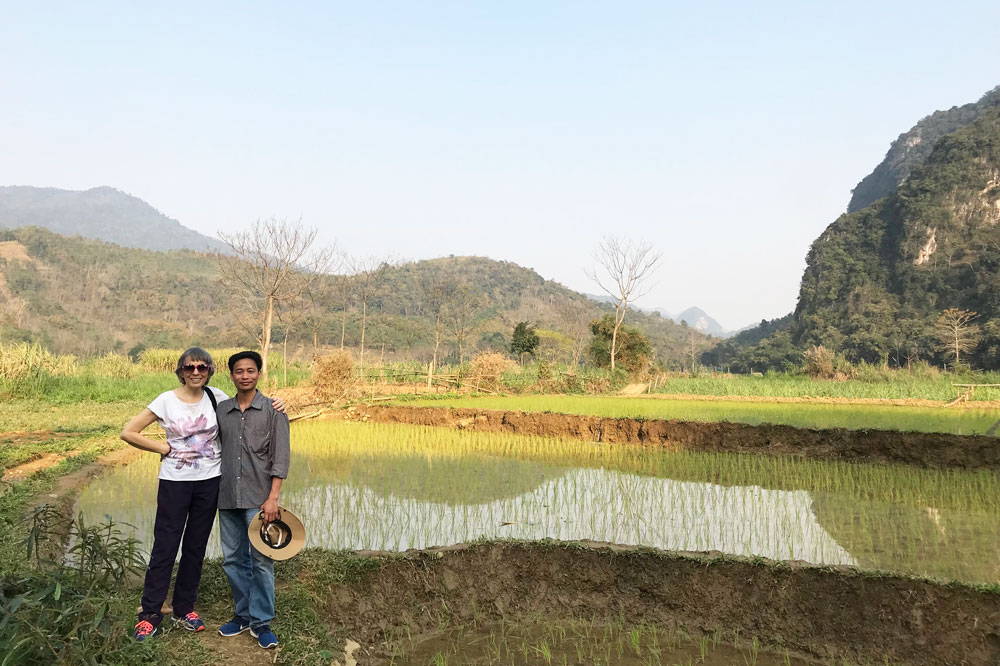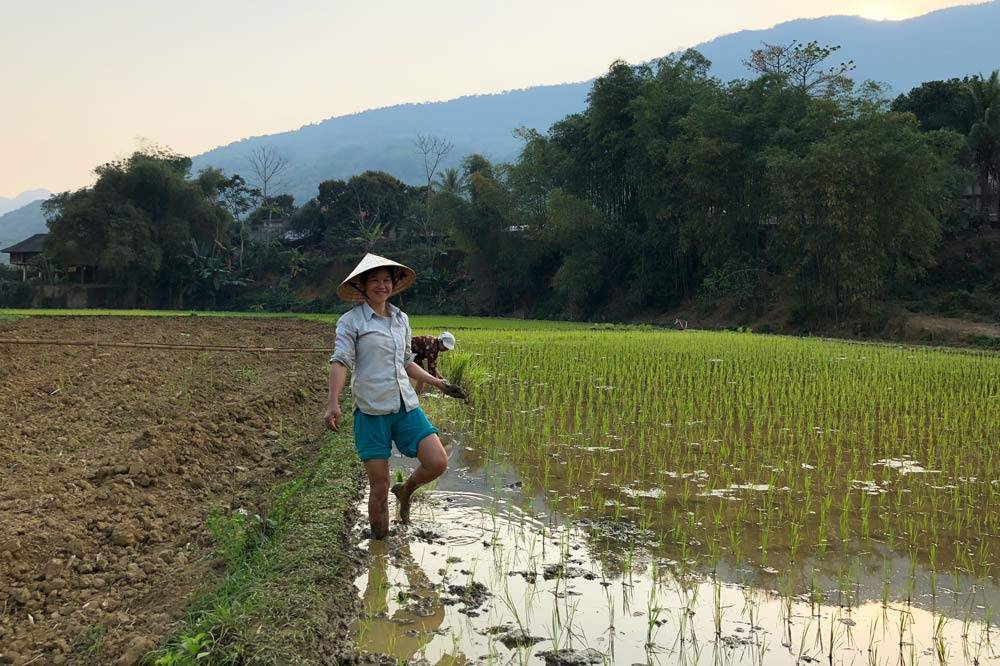 A local farmer hand planting rice seedlings
After our time at the water wheels we walked back along the road and enjoyed the nature, more rice fields and observing and connecting with the local community as they went about their life and work.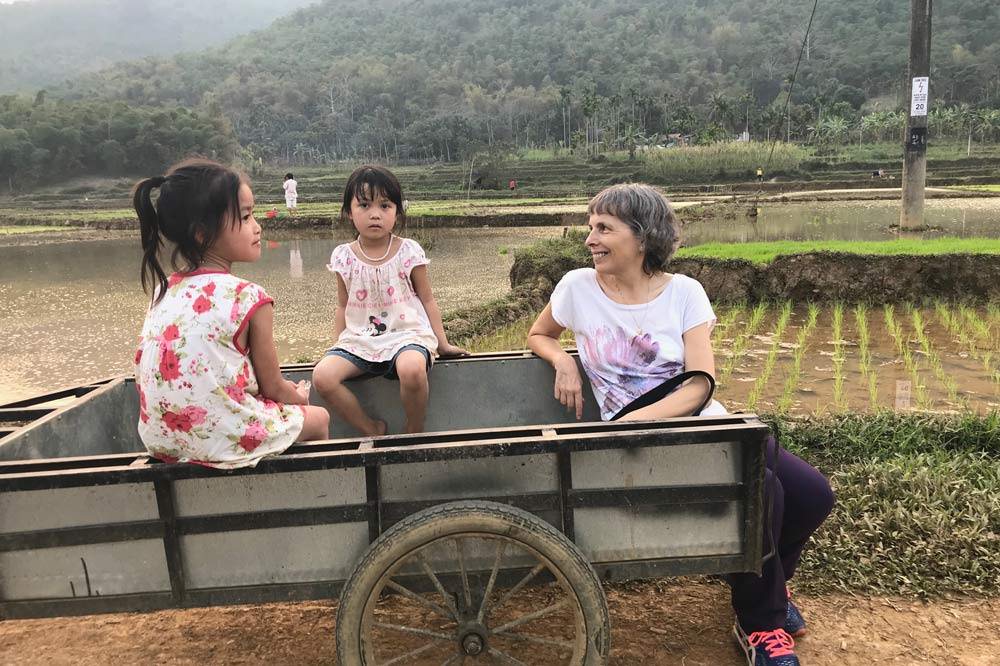 Nicola with two local girls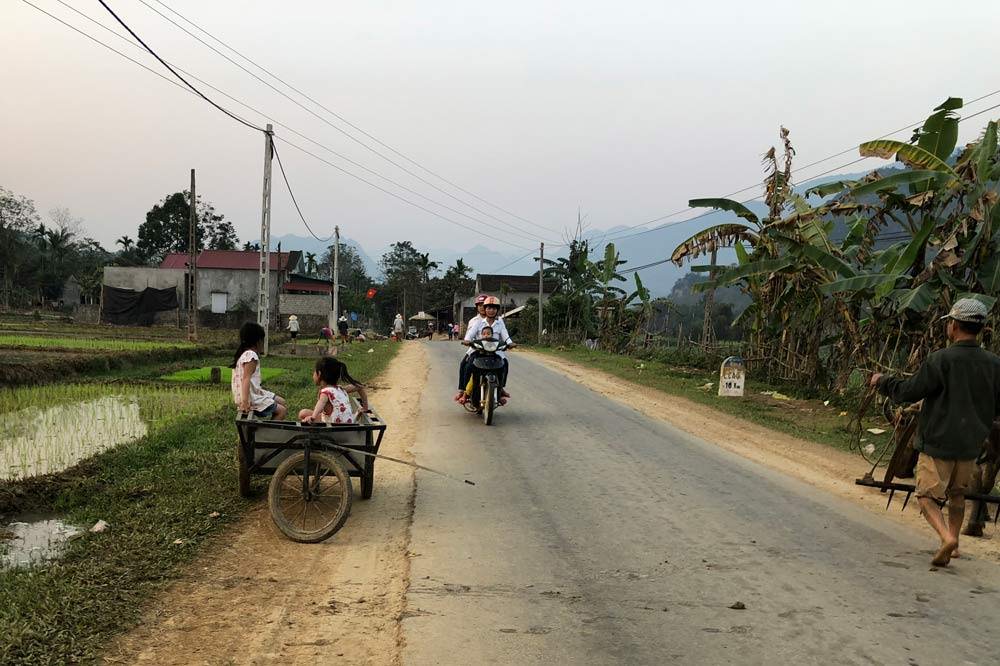 The view of the main road
---
After breakfast one morning, we walked directly from our Pu Luong nature resort down through the village.
Along the way we saw all sorts of things - broken down machinery with everyone coming together to fix it, a bus stuck on the steep narrow road (again locals all jumped in to help), farmers planting rice and walking their buffaloes, children playing, village life and farming happening.
The walk was downhill all the way and we started to wonder about the return journey and walking back up. We made a comment to our guide and he spoke to some people and arranged for two local gentlemen to take us back up to the resort by motorbike. Since then we have changed the itinerary on our tours so that Travelbay customers get taken back to the resort by car.
Here are a few more photos to give you a feel for the place - although best to go and see for yourself!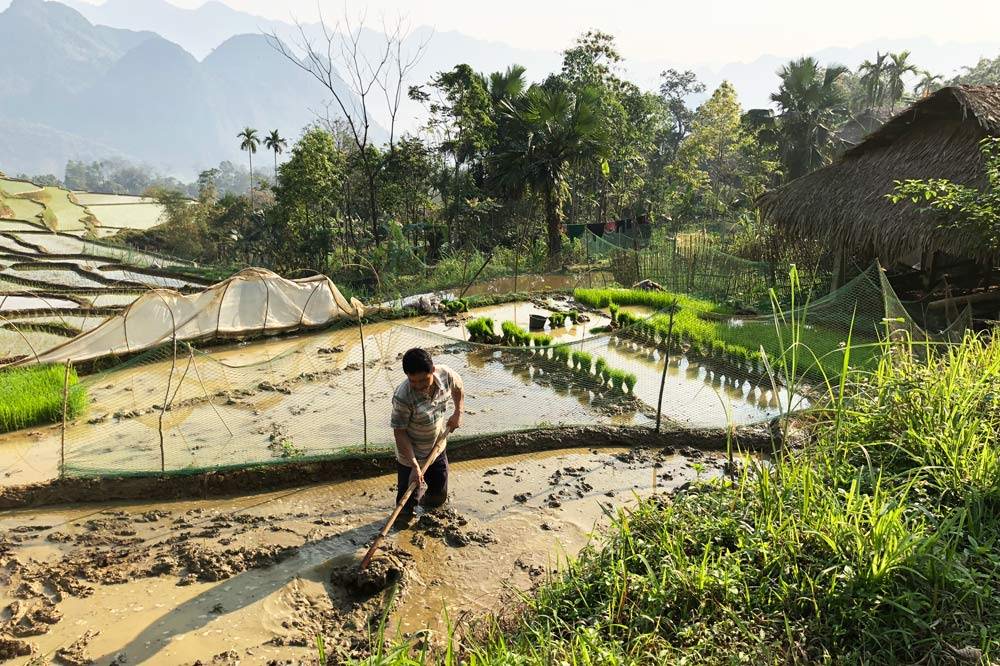 A local plowing his field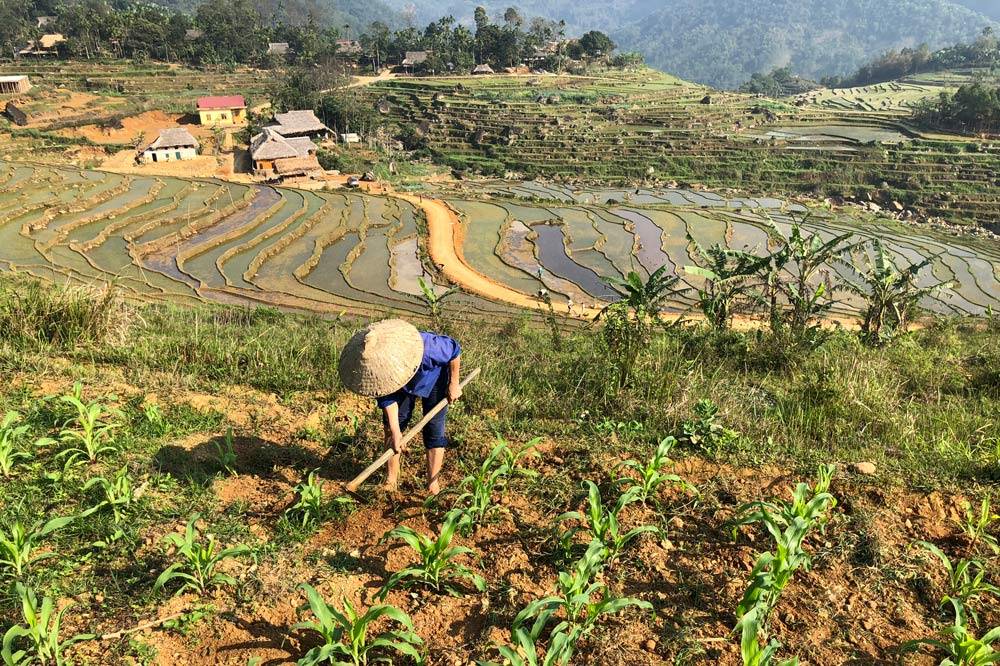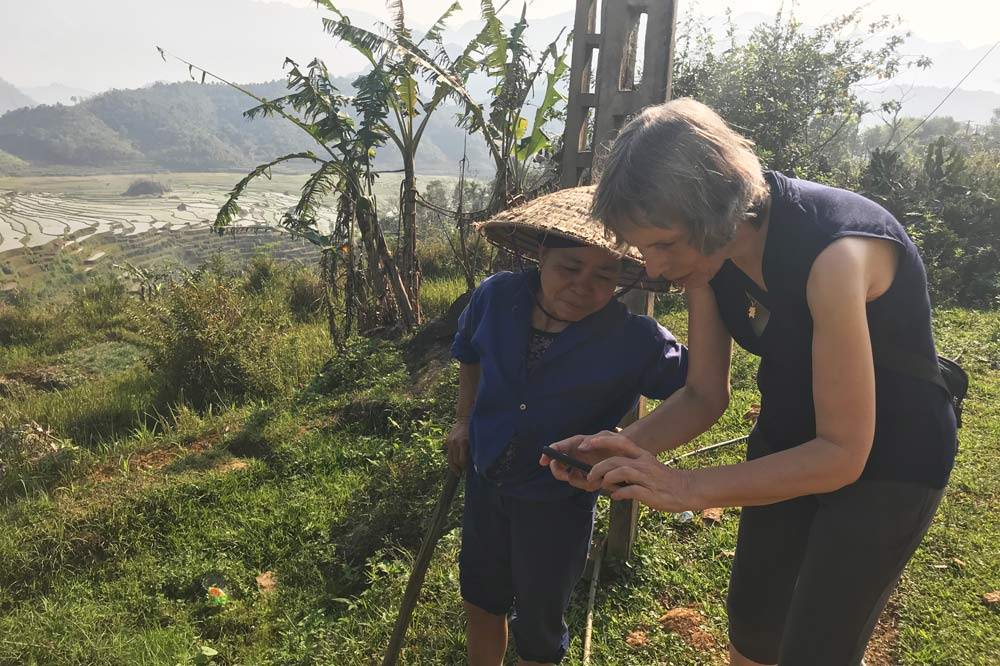 Nicola sharing the photos with the local farmer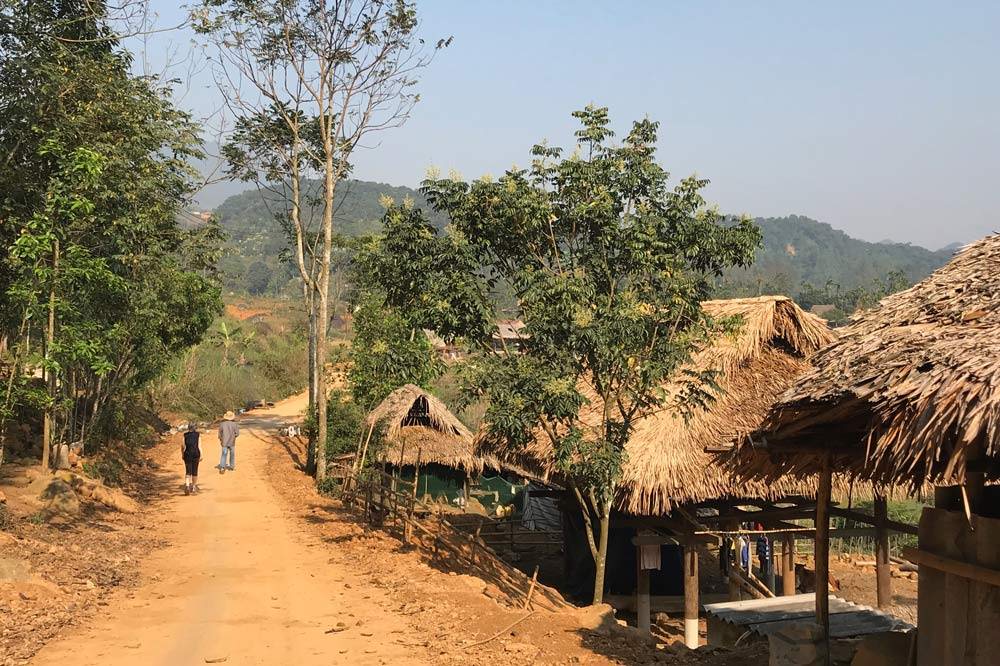 Nicola on the village road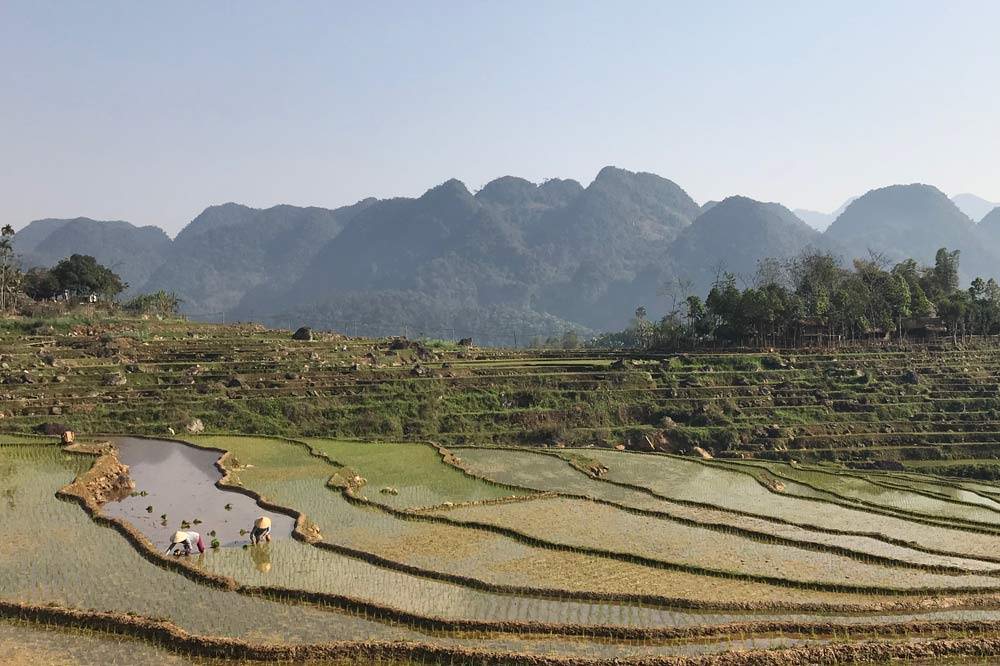 The rice fields of Pu Luong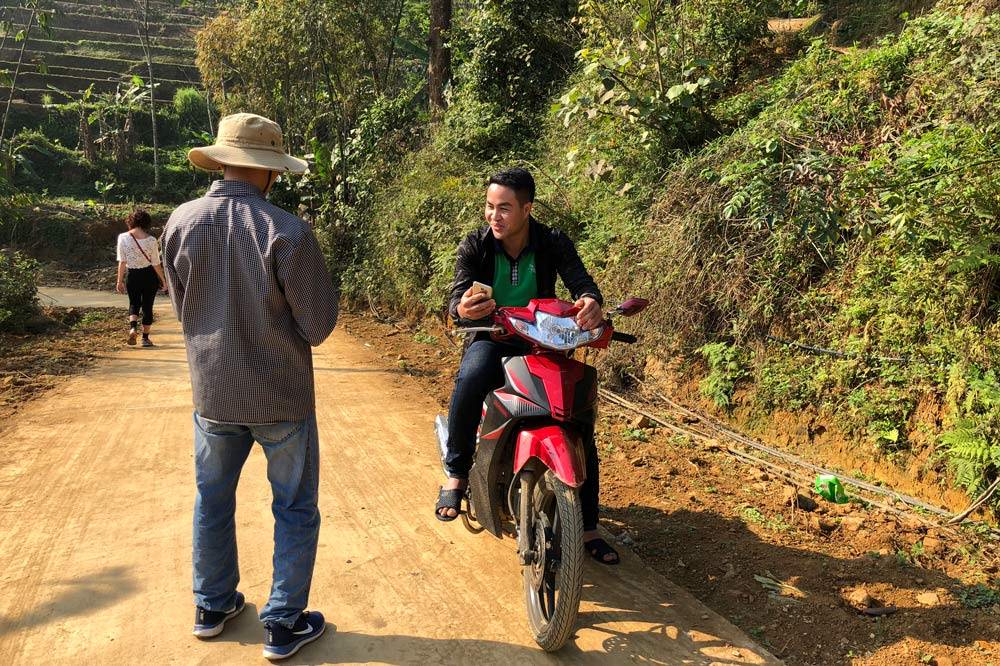 Our guide arranging a ride back up the hill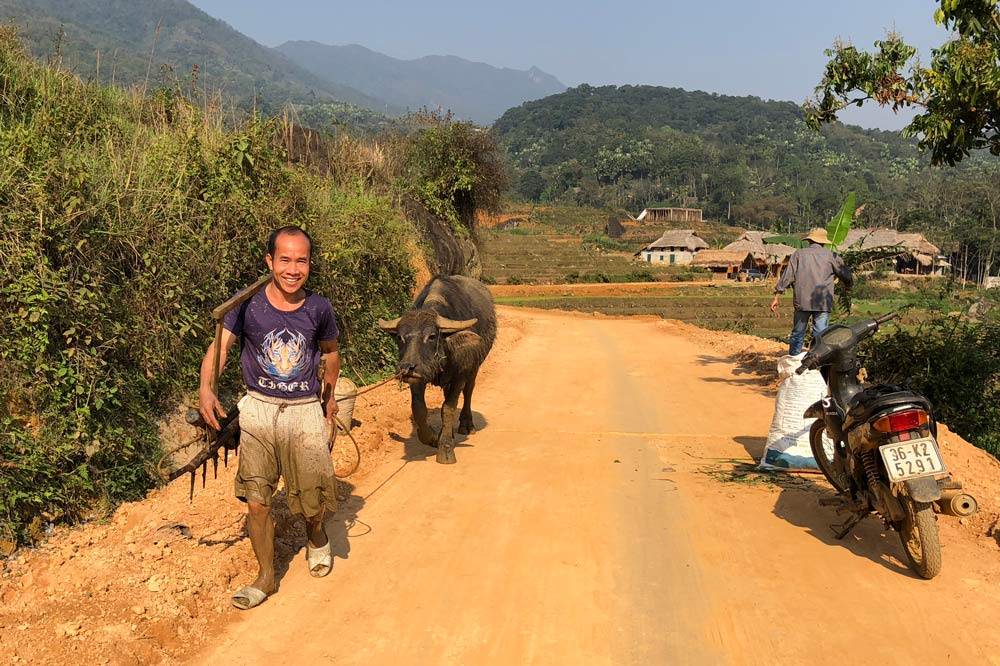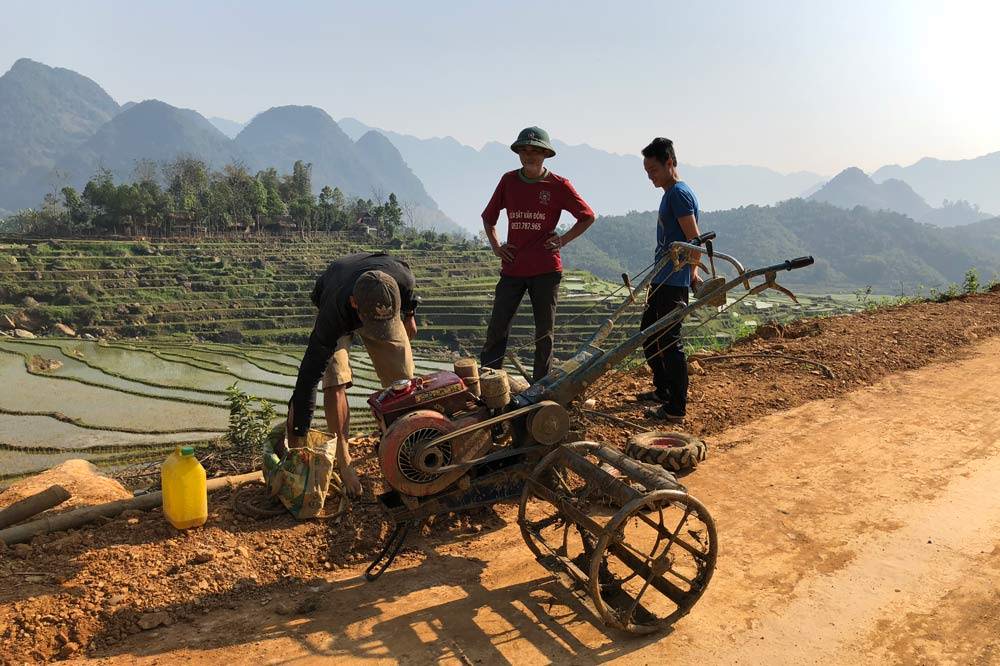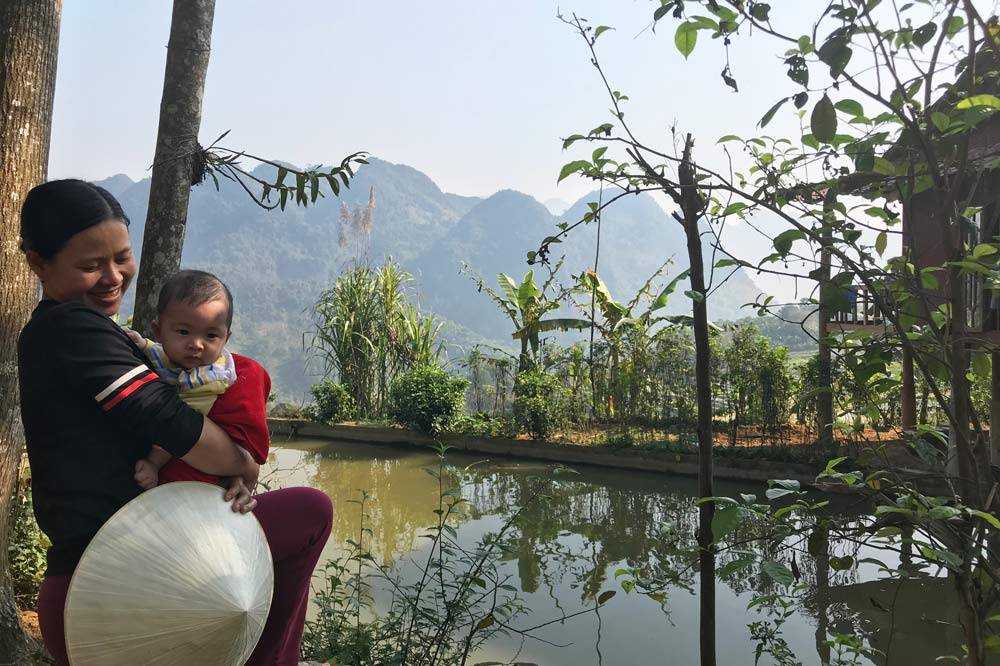 Mother and son we met along the way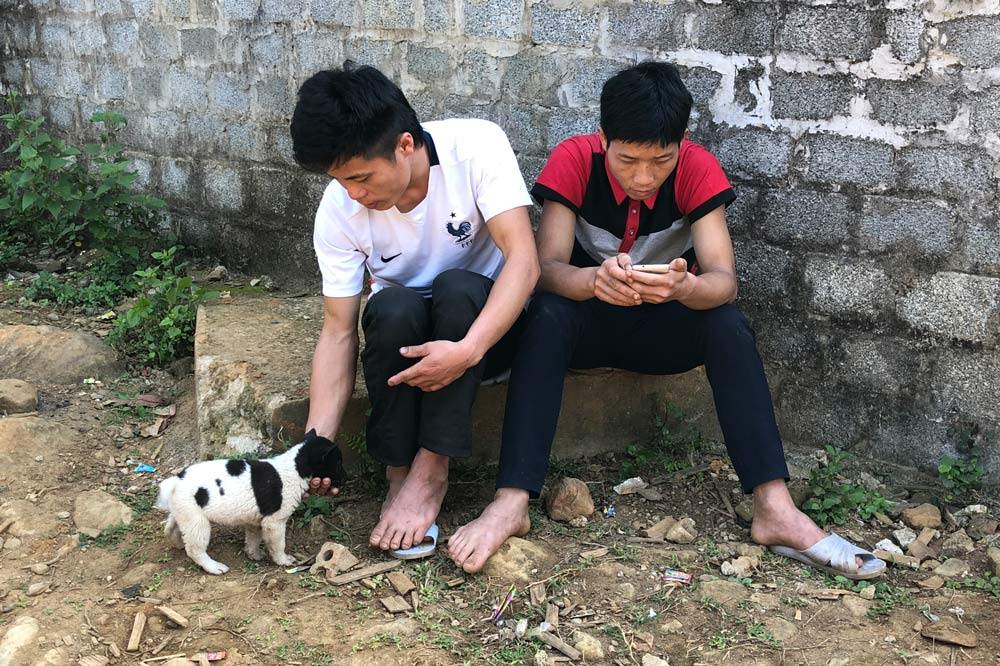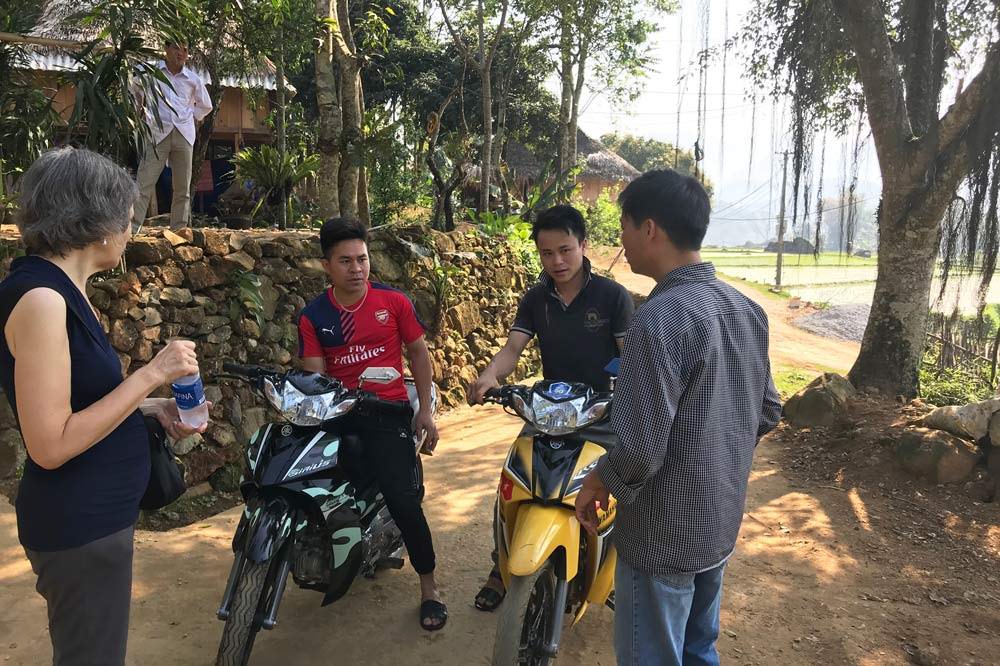 Our rides back to the Retreat
In summary - we loved our time in Pu Luong and highly recommend a visit. It is somewhere a bit different where you can enjoy local rural life, beautiful nature and the gorgeousness of the Vietnamese people.
You need a moderate level of fitness to manage the steps around the resort and to make the most of Pu Luong as there is some walking.  
---
If you would like to visit Pu Luong, please let us know - it is an easy addition to any of our Vietnam Tours. Below is a link to an existing Travelbay Private Vietnam Tour that includes Pu Luong along with some other gems 💎. Click here to see our full range of Vietnam Tours.