In April 2019 Sri Lanka was subjected to a coordinated terrorist attack, during which three churches and three luxury hotels were the target of suicide bombers.
At that time, Sri Lanka was considered a tourist hot spot - a gorgeous travel destination where tourism was not only booming but growing.
After the bombings, or "the incident" as locals refer to it, tourism came to a halt.
With some customers cancelling their holidays to Sri Lanka and others concerned about their upcoming trips, we (Nikki and Nicola) decided to take a visit ourselves to see what was going on, check if it was safe for our customers and take the opportunity to review our tours and hotels.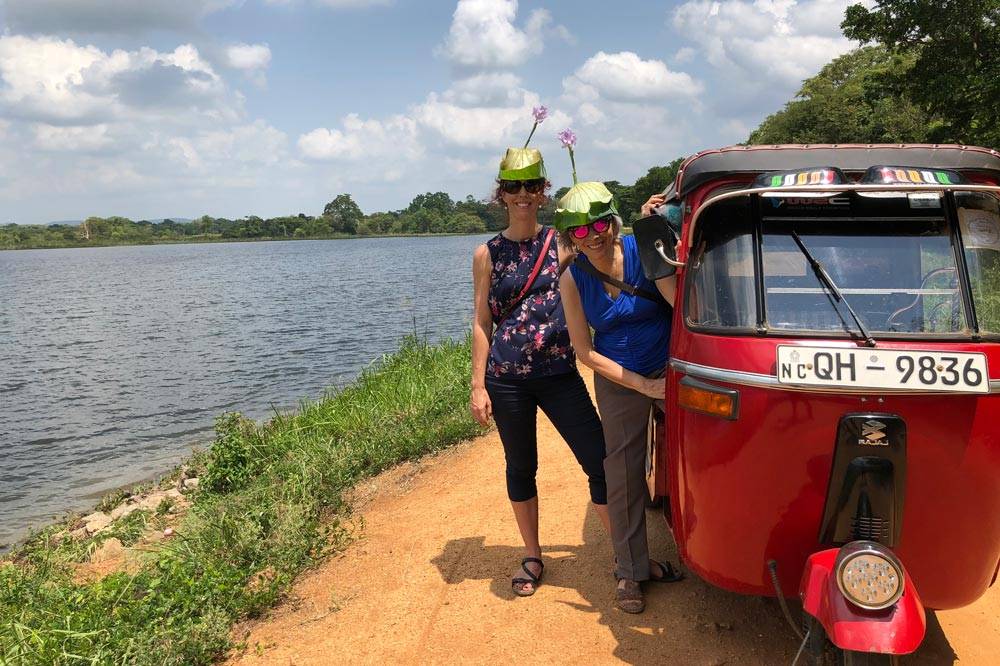 Here we are modelling our lotus leaf hats during a local village tour
We arrived in mid May, a month after the bombings on a beautiful sunny day - in fact the weather was absolutely gorgeous the whole time we were there. Around Colombo and Negombo (where the bombings took place) security was tight.
But was there any danger?
We felt very safe and taken care of. Aside from the group being responsible for the bombings having been disbanded, there didn't feel to be any danger and the security measures a precaution. In fact it felt like a particularly safe place to be.
The locals suffered greatly not only from the bombings but also from tourism drying up - their livelihoods were now under threat. Hotels that in April had 85% to 100% occupancy were now at 15% or less and in some parts of the country 0% and had to close.
Sri Lanka relies on tourism. When that was taken away, many people and communities were suddenly and sharply faced with a loss of income.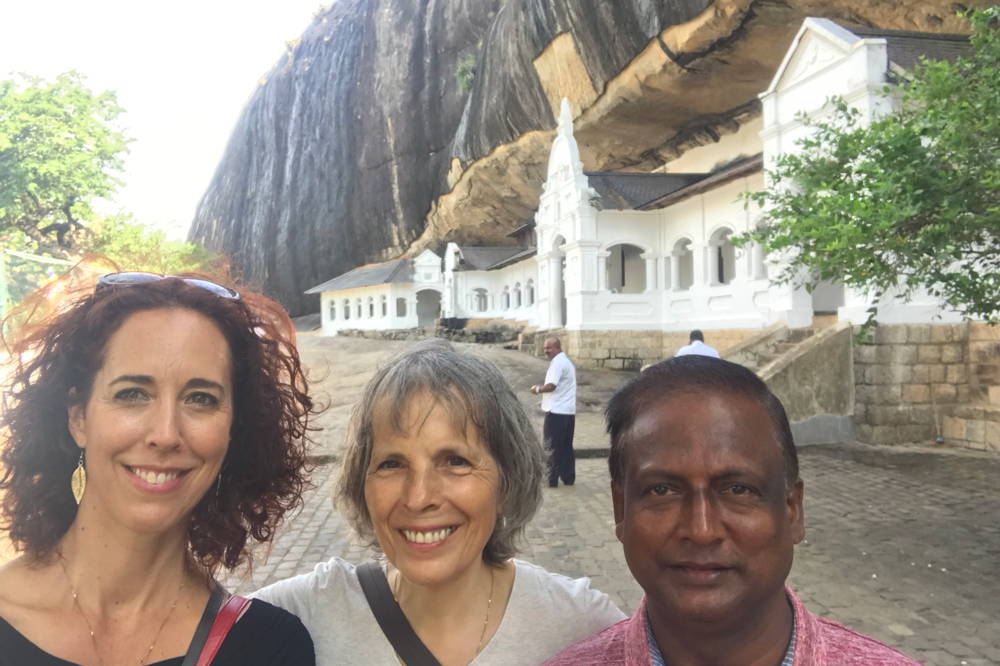 Nikki (left) and Nicola (middle) with their wonderful driver guide and friend Rana (right) at Dambulla Caves
In peak season there were 12,000 people a day going up Sigiriya. Prior to the bombings around 3,000 per day. When we were there, 50 - 100. Our guide Rana opted to take a local guide for the climb simply to support the locals and give them work
The locals are all supporting each other and sharing what work is around. There are 200 guides at Sigiriya and our extra guide Sameera was going up 2-3 times a day previously. They now take turns among the 200 of them and at present he only goes up once or twice a week.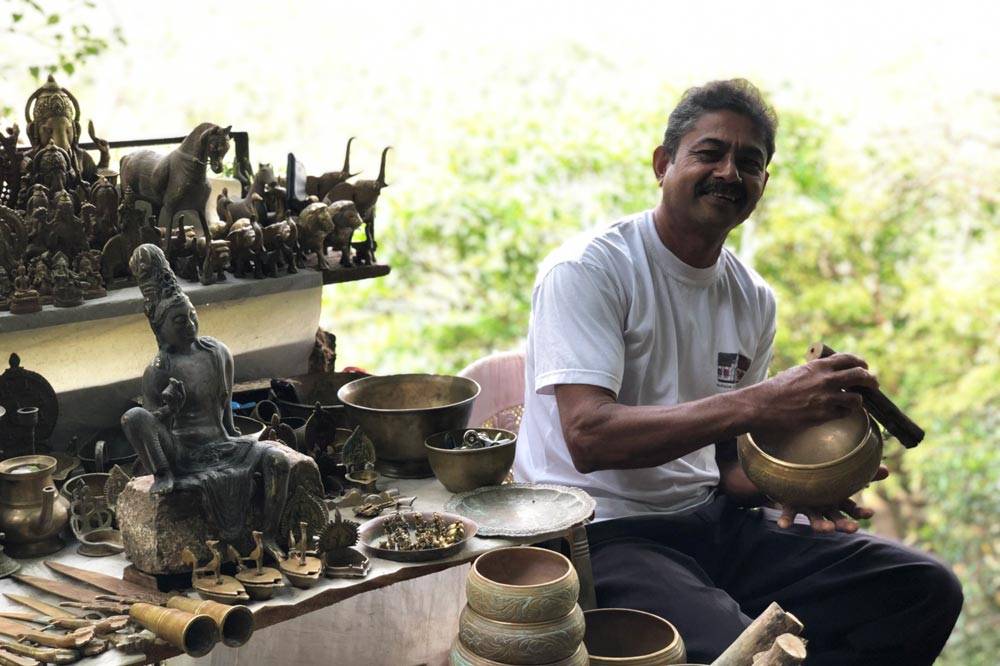 Nihal, Dambulla Cave Temple Complex
In the above photo is Nihal. We met him on our way down from Dambulla Cave Temple.
Nihal told us that before the incident there used to be about 2,000 people a day and now it is more like 40 or 50.
He makes a living from selling his works of metal on the path up to the caves. Nicola bought herself 2 bells while there to support Nihal and so that she can ring them at dinner time.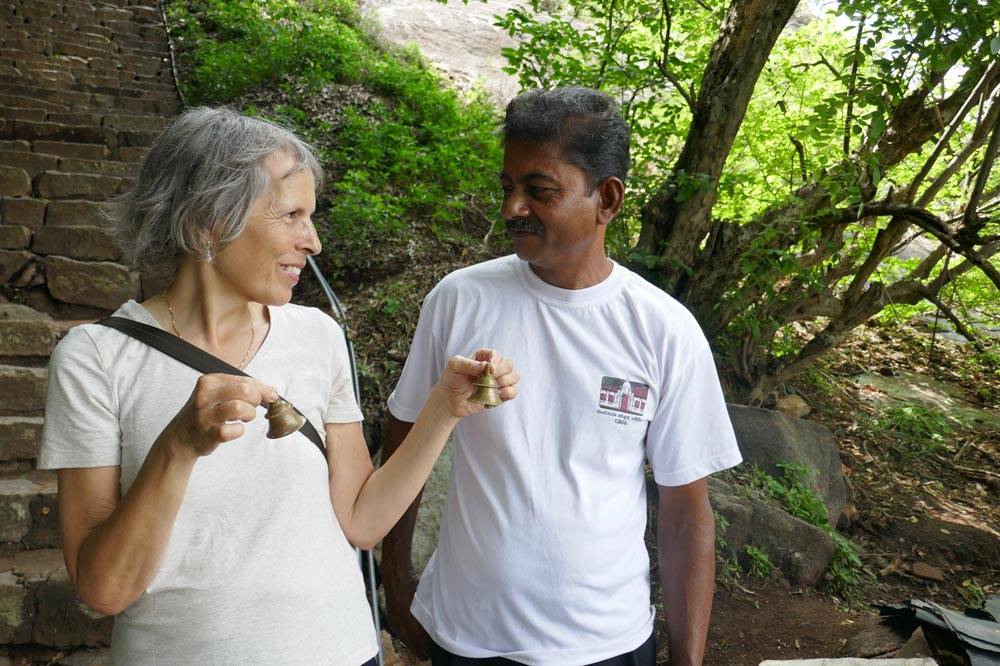 Nicola, her bells and Nihal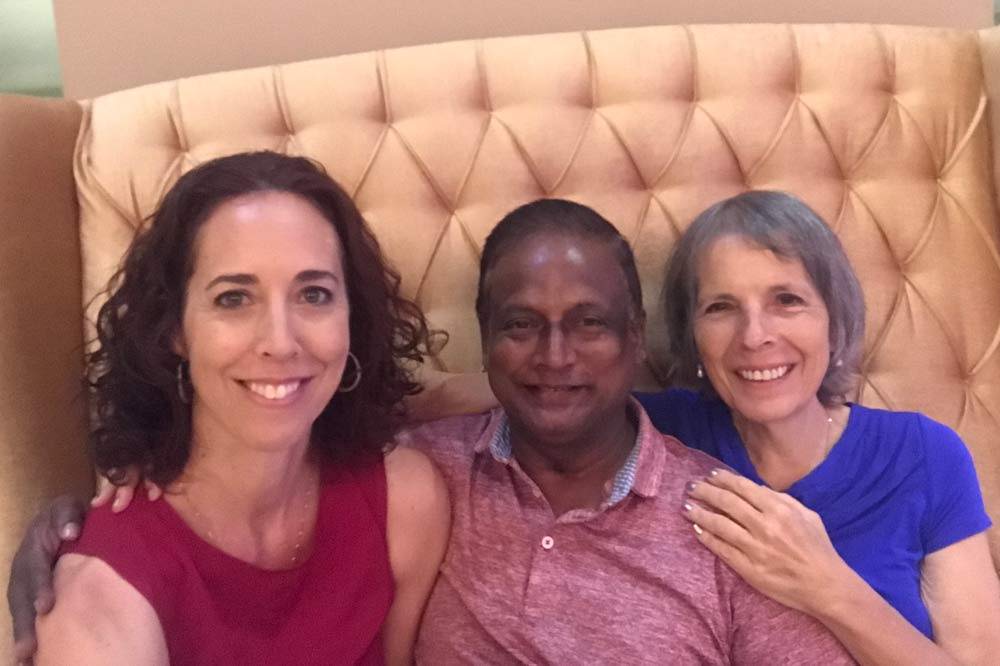 One of the many beautiful things about Sri Lanka is the people - that alone is worth a visit! They have all come together to support each other and they are resourceful and doing what they can while things are quiet. Many of the hotels are choosing to renovate for example (whilst we were in Sri Lanka we inspected 40 hotels and were very happy with our selection).  
Tourists are starting to return and there is no doubt Sri Lanka will once again have the travel hot spot status it deserves.
With tourists currently drastically lower, it means that the tourist sites that are usually bustling, are very quiet now. We had many of them mostly to ourselves.
We were told that at Sigiriya, at certain times of the year you need to wait in queue to climb to the top. Or at Yala National Park, there can be a queue of jeeps, especially if a leopard is spotted.
We LOVED our time in Sri Lanka. It has everything - beautiful resorts, great beaches, tea covered hills with a cooler climate, incredible scenery, wildlife, culture, yummy food - and it's all in a short distance.
There is only one main airport in Sri Lanka - Colombo, which means that your transport is overland. This also means you'll have the one driver guide with you for the duration of your holiday.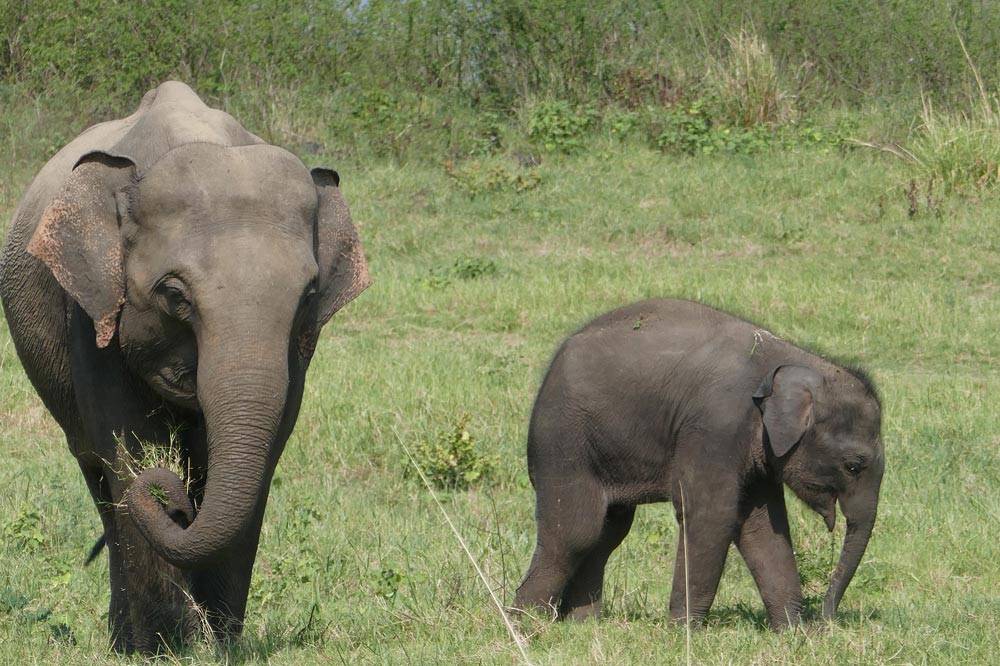 Elephants at Minneriya National Park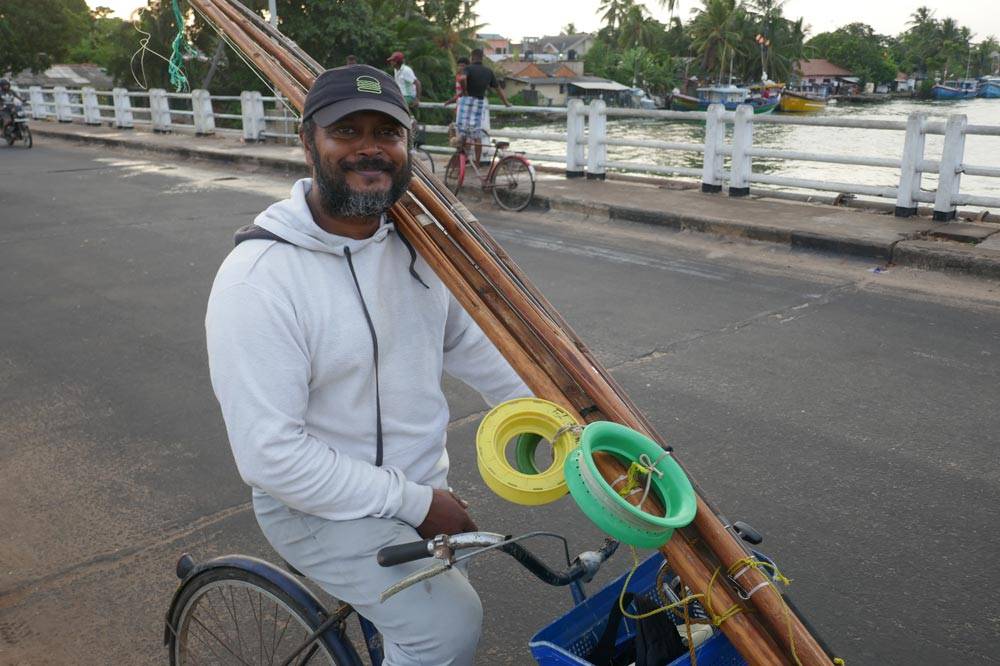 A local fisherman in Negombo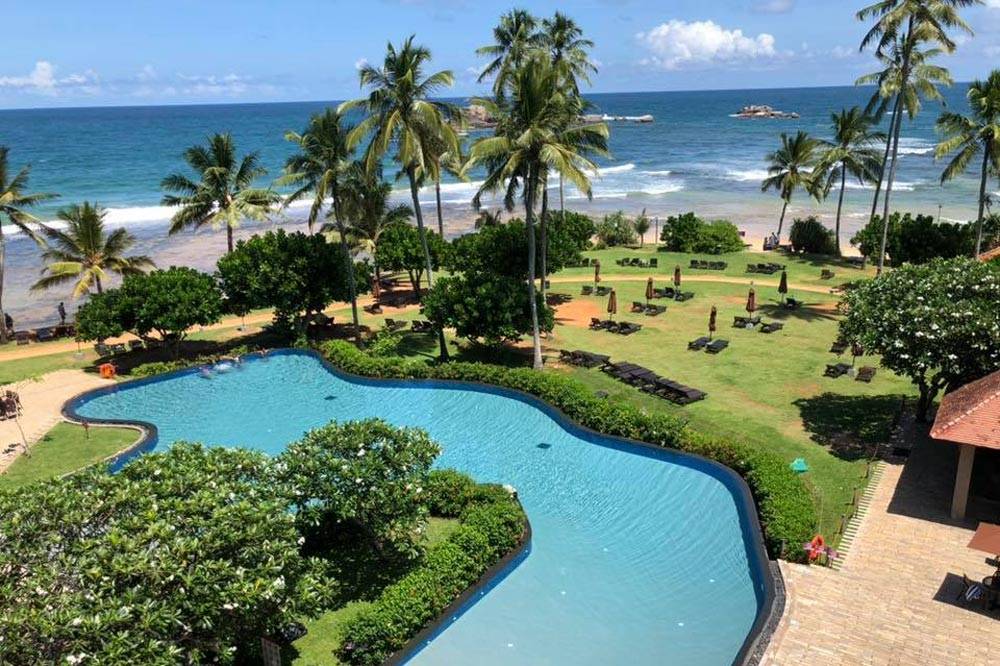 HikkaTranz Resort in Hikkaduwa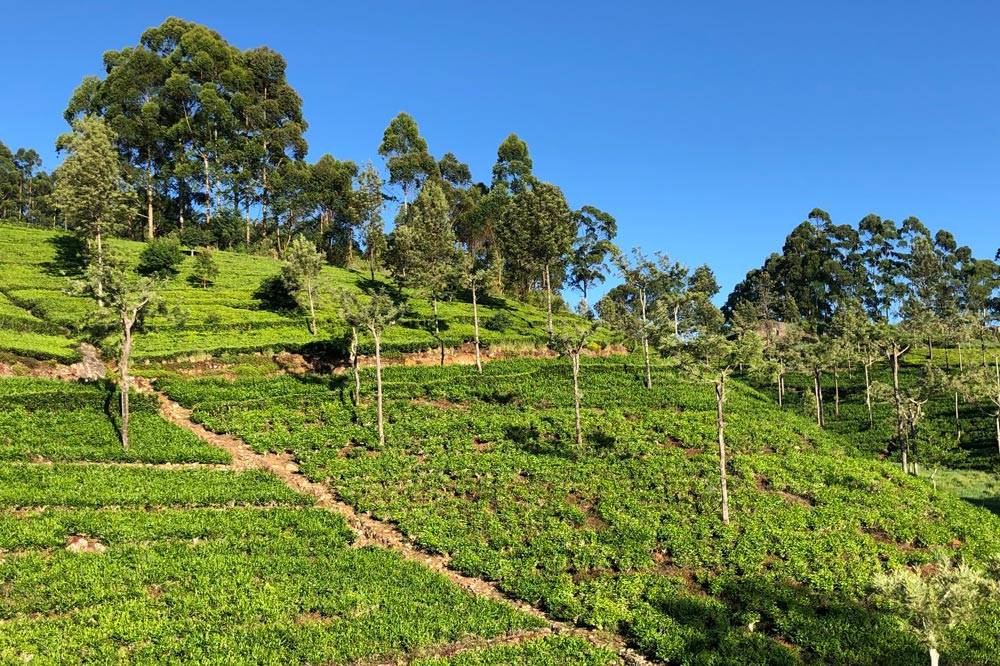 Tea fields at Lipton's Seat near Ella
We both highly recommend a visit to Sri Lanka.
Feel free to contact us if you would like to discuss Sri Lanka or your travel plans.
With love
Nikki and Nicola
---
Travelbay Sri Lanka Tours